Women in Sport Spotlight: April 2017
Apr 30, 2017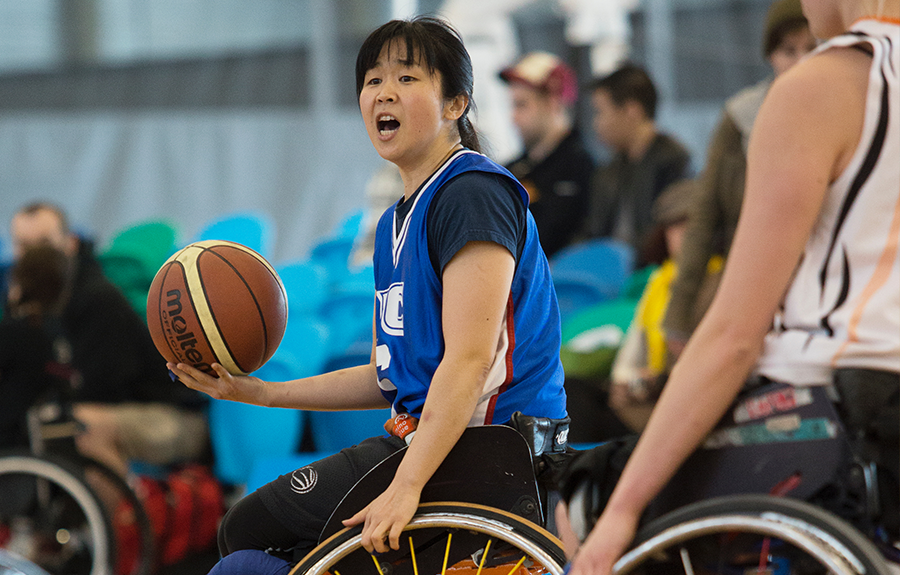 She wheels, she shoots, she scores
"Wheelchair basketball is basketball played by people with varying physical disabilities that disqualify them from playing an able-bodied sport."
– Wikipedia
As the Manager of Program Development at BC Wheelchair Basketball Society (BCWBS), Makiko Harada would disagree with this particular definition of wheelchair basketball based on how the hard-hitting sport resonates with her. When asked to use one word to describe the sport, it's simply the word "sport" that rings true. 
"Wheelchair basketball provides everything that every other sport provides. It's fun, it's exciting. You need strategy. It can be a high performance sport. It can be an integrational sport. It brings people together. It's just one of the many sports that people can enjoy and find possible motivation from."
In addition to the community that this sport brings together, wheelchair basketball integrates able-bodied athletes, like Makiko herself, to play wheelchair basketball alongside athletes with a disability in countries such as Canada and the UK. Although this inclusive policy doesn't extend to the international level of play, the inherent message of wheelchair basketball being more than an adapted sport for athletes with a disability shines through.
It's the inclusive nature of wheelchair basketball and the advanced programs offered in Canada that attracted Makiko to this country after her energetic upbringing in Japan. With naturally active parents, her fondest childhood memories include playing sports with her family. Basketball eventually became her preferred sport throughout junior high and high school. Wheelchair basketball was more or less unknown to Makiko until a friend invited her to try it. Knowing that it was similar to basketball, Makiko was inclined to give it a try. Soon afterwards, wheelchair basketball became an integral part of her life.   
However, the lack of opportunity for able-bodied athletes in the sport made it difficult for her to integrate on a more competitive basis. Makiko's desire to learn more about this sport and to coach it eventually led her to the sport management program at the University of Illinois and their intriguing wheelchair basketball college team. After graduating, she had garnered meaningful experience as their team manager and assistant coach. From here, Makiko was ready to embark on her next adventure in the neighbouring country up north. To play the game that she had come to love more competitively. After finding employment with BCWBS, she became involved with a team and advanced to the BC Breakers provincial team, winning gold at nationals in 2014.  

Retired from playing since her golden year, Makiko currently coaches the BC Breakers as a means to share her meaningful experiences and knowledge with up and coming athletes. Coaching was a natural transition, given her previous interest and experiences. The journey ahead does have challenging times, however. 
"It's not easy. You struggle all the time, such as not seeing an athlete's improvement, and you start to doubt yourself. Am I doing it right? Am I doing it wrong? All of a sudden – how did that happen? You [the player] couldn't do that yesterday, and now you're doing it! It might not be my coaching ability, but the athletes putting in the hard work. Overcoming weakness in those moments is rewarding."
In addition to coaching the provincial team, Makiko also coaches members of the Greater Vancouver Women's Wheelchair Basketball Club, a club that she started with a couple other players in 2015. Currently the only women's club in British Columbia, the regular attendance and constant addition of new players trying the sport keeps it going strong. In addition to having people of all abilities try the sport, her goal is to eventually have enough women's teams across to province so that tournaments become a reality at the local level.
It's been difficult though, given the number of female athletes that decide to stop playing wheelchair basketball after various barriers, including starting families, come into the picture. That's why she puts in countless hours in her various roles to foster an environment that encourages girls and women to continue playing. Currently pregnant herself, Makiko hopes her continued involvement in the sport will inspire others to do the same. After all, sport is meant to be enjoyed at all stages of life without obstacles.
"Just get out there and try [sport]. Once you get out, you'll find somebody who might be in the same situation as you. Somebody you can relate to. If you like it, share your experiences with other girls. You don't have to be a role model, but getting out there really helps build sport and motivate other girls around you."
The Women in Sport Spotlight is a monthly series featuring inspirational female athletes, coaches, officials, volunteers, and leaders in British Columbia.