WOMEN IN SPORT SPOTLIGHT: FEBRUARY 2016
Feb 17, 2016
This month's inspiring female role model in sport is National netball U21 coach Lorraine Brown. Read on to learn more about her path from player to coach.
Name: Lorraine Brown
Sport:  Netball
Hometown: Port Coquitlam
BC Netball coach shares her passion for player development
When asked what she finds most rewarding about coaching, current National U21 team head coach Lorraine Brown says: "helping players reach their goals."
Not a surprising statement as Lorraine has dedicated more than 11 years to coaching netball. After being a BC Winter Games coach for three years, she was selected as the assistant coach for the Canada National Team, and then the head coach for the BC U18 team. 
"I really enjoy seeing players develop not only as a player, but also as a person. It's great to see a lot of the younger players I've coached continue with and come back to play the sport."
Coaching, however, wasn't always Lorraine's passion.
 "My family immigrated [to Canada] when I was nine, and there wasn't a lot of money to pursue sports. I focused on academics instead," she recalls.
Lorraine was introduced to netball in grade 10 through a school program. Although sports were not a significant part of her life while growing up, her story goes to show how it's never too late to pursue it.  
In the same year, Lorraine was also selected to represent Fraser Valley in the 2000 BC Winter Games. From 2002-2007, Lorraine advanced further in netball and was part of the BC U18 and U23 teams. Eight years after her first BC Winter Games, she went on to represent the nation on the Canada National Open team.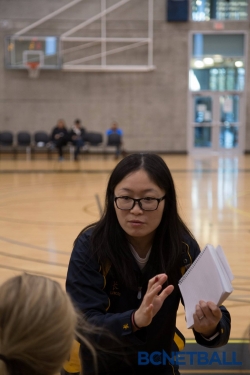 The BC Winter Games became a turning point for her participation in netball as she started transitioning from playing netball to coaching it. Soon enough, she became motivated to take a coaching course.
"My interest [in pursuing coaching on the national level] started when I was coaching younger players at the BC Winter Games."
Lorraine's evident passion shone through when she was hand-picked by her Australian mentor coach, Jill McIntosh, for the BC U18 team.
"It means a lot to me. She's the best netball coach, and has won more Commonwealth Games [Gold Medals] in netball than any other coach in the world," says Brown. "I have so much respect for her." 
In addition to Jill, Lorraine also references her current mentor coach, Ann Willcocks, as someone who has influenced her involvement in the sport. They first met when Lorraine was 19 years old and a part of the provincial team.  
"She transitioned from being my coach, to being a mentor as well. With her passion for netball, she's been an important friend in my life."  
Statistics show that women only occupy 17% of head coach positions in Canadian Intervarsity sport. Yet, as a predominantly female-driven sport, Lorraine doesn't face those same barriers.  
"We're so lucky with the support we have, as many of the coaches were players. We're lucky as a sport, as it's predominantly played by females, and geared towards young women to achieve their goals."
Aspiring to be a coach? Here's her advice:
"Stay positive, even if you don't know something. If you lack something in knowledge, you'll make it up with energy, passion, and encouragement."
The Women in Sport Spotlight is a monthly series featuring inspirational female athletes, coaches, officials, volunteers, and leaders in British Columbia. Visit our Newsroom and follow us on Twitter or Facebook at @viaSportBC to find the latest edition