WOMEN IN SPORT SPOTLIGHT: JULY 2015
Jul 17, 2015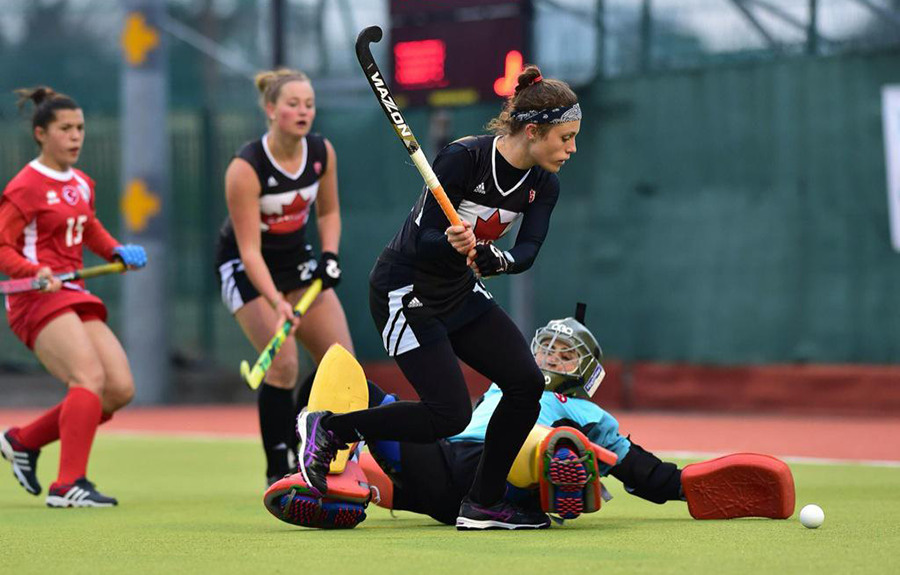 Home-grown field hockey all-star represents BC and Canada at TORONTO 2015 Pan Am Games  
 
Name: Thea Culley
Sport:  Field Hockey
Position: Forward – Women's National Team
Hometown: Rossland, BC
Age: 29
 
Thea Culley started her field hockey career at age 12 and now, seventeen years later, is representing her hometown, her province and her country against the best athletes in the world at the TORONTO 2015 Pan Am Games.
Early on, at age 14, Thea's high school coach recognized her potential and encouraged her to try out for a regional team. She had her first multi-sport experience with the Kootenays Zone 1 team at the BC Summer Games, and was named to the Provincial team to represent BC in Grade 10. She stayed with the Provincial team for the rest of her high school career, supported by Field Hockey BC in her quest to develop her skills and experience as an elite athlete.
After high school, Thea was selected to play for the University of Victoria Vikes, where she happily relocated to Vancouver Island to live with her grandparents.  After two successful seasons with the Vikes, she tried out for the Canadian Junior National Team, and one year later was headed out on her first world tour. Shortly after, Thea was asked to relocate to Vancouver to train full-time with the National Team, where she continued her studies at the University of British Columbia.
Thea made her first international appearance in 2006 – the same year she was recognized as a CIS Tournament All-Star. In 2008, she earned a National Championship Tournament All-Star award and in 2009 was awarded the Champions Challenge II Canadian Best Player. It was, therefore, no surprise when she was selected to be a part of the National Team representing Canada at the 2015 Pan Am Games.
"My goal is to play well every game and stay focused in the moment," explains Thea when asked about her upcoming international experience. "Getting to perform at home is very special and I want to soak up every experience and truly enjoy it."
When she's not training or competing, Thea has also made a name for herself as an athlete leader and ambassador. She sits on the Board of Directors for Field Hockey Canada as the female athlete rep and on the Board for AthletesCAN – an organization representing the collective voice of Canadian National Team athletes.
Her advice to athletes following in her footsteps? "Value the setbacks and hardships and use them to make you stronger. Earning your achievements is more rewarding than being handed them."
Follow Thea and the Women's National Team at the Pan Am Games until July 26 by visiting www.toronto2015.org
The Women in Sport Spotlight is a monthly series featuring inspirational female athletes, coaches, officials, volunteers and leaders in British Columbia. Visit our Newsroom and follow us on Twitter @ViaSportBC to find the latest edition.