Women in Sport Spotlight: July 2016
Jul 27, 2016
Name: Jordyn Konrad
Sport:  Swimming
Hometown: Salmon Arm
This month's inspiring female role model in sport is athlete and coach, Jordyn Konrad. Read on to learn about how she accomplished her childhood dreams and more.   
Jordyn Konrad: A stroke of success
"Where do you see yourself in 5 years?"
Ask a recent graduate this question, and palms become drenched in fear. Ask 13 year-old Jordyn Konrad this question, and you receive a determined response: swimming for the Simon Fraser University (SFU) varsity team.
She wasn't all talk, either.
"I was wearing SFU sweats and doing everything in the pool that I could to make my goal come true" says Konrad. "I already knew that this was the program I eventually wanted to swim for."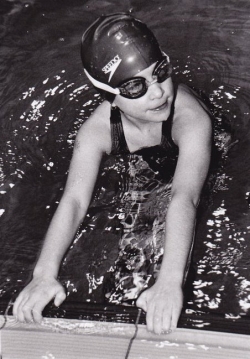 Having been involved in sports since the age of two, Jordyn's desire to succeed at a competitive level was a natural progression. She had been enrolled by her parents and babysitter in both figure skating and swimming as a way to keep her occupied. 
Eventually, swimming stole her heart. With a handful of reasons as to why she enjoys swimming, this doesn't come off as surprising.
"I enjoy how it's an individual sport, and also very much a team sport – how individually, I could push myself and improve each practice while also having the support of my teammates.
"I also enjoy the feeling that swimming gives me. Half the time, swimmers will have completed a two-hour workout before most people are even out of bed. Also, completely dominating a hard set and impressing your coach – I love that! Or being in such great shape that you slip through the water with so much efficiency and little effort."
Jordyn's love for swimming didn't end on a purely recreational basis. Growing up with the BC Summer Swimming Association (BCSSA) strongly influenced Jordyn's desire to be part of a varsity swim program, as many of her coaches were varsity students.
"They taught me not only how to be a better swimmer but also how to be a great athlete; they taught me many skills such as hard work, focus, persistence, leadership, how to be a great competitor, and much more. All of these skills have not only helped me in my swim career but also how to live each day."
One of her coaches was Graham Duthie, a member of the SFU varsity program at the time. With his vision and expertise, the tides of the Salmon Arm Sockeyes Swim Club began to turn. His exemplary leadership brought forth BCSSA provincial champions, including Jordyn, and a cascade of like-minded coaches and role models to this flourishing club.
"They made me believe in myself and taught me about all the possibilities in front of me."
Fast forward a few years and a number of BCSSA provincial titles, and Jordyn's efforts of wearing SFU sweats had paid off. She was accepted onto the SFU varsity swim team. In addition to that, Jordyn had gone on to win the 4×100 freestyle relay at the Pacific Coast Swimming Conference Championships which qualified her to swim at the NCAA Nationals in Birmingham, Alabama. Given that it was the first time SFU competed in the NCAA Nationals, it was a huge accomplishment for herself and the team.
Even though Jordyn is an accomplished athlete, she still experienced times of weakness and uncertainty. During this difficult period, she looked to her boxing coach, Peggy Marez, for support and guidance.
"At the time, I was going through a rough patch in my swimming career and the future of my swimming was up in the air. Peggy gave me the ability to take control of my own swimming and the future of it. I see many people come through her doors and transform not only as recreational and competitive boxers, but also as people. As a coach, I inspire to be like her."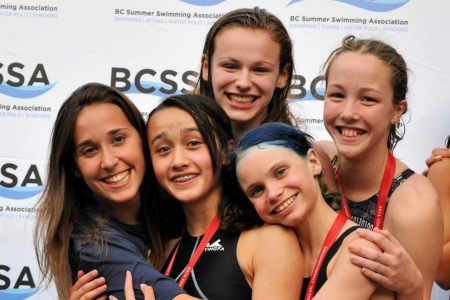 Nowadays, Jordyn is co-head coach for her childhood club, the Salmon Arm Sockeyes Swim Club. Naturally, she wanted to pass on the passion that she had for swimming. Jordyn also finds it extremely rewarding to watch her swimmers reach their goals and believe in their full potential – a passion that has been passed down to her from previous coaches.  
Her advice for aspiring athletes? 
"Never give up and be persistent… know what you want! Every athlete experiences daily, monthly, and seasonal challenges. Keep pushing forward and the hard work will pay off." 
Interested in watching the athletes that Jordyn currently coaches? Watch our upcoming live-stream of the 2016 BCSSA Provincial Championships taking place from August 16-21! 
The Women in Sport Spotlight is a monthly series featuring inspirational female athletes, coaches, officials, volunteers, and leaders in British Columbia. Visit our Newsroom and follow us on Twitter or Facebook at @viaSportBC to find the latest edition.