Women in Sport Spotlight: June 2016
Jun 22, 2016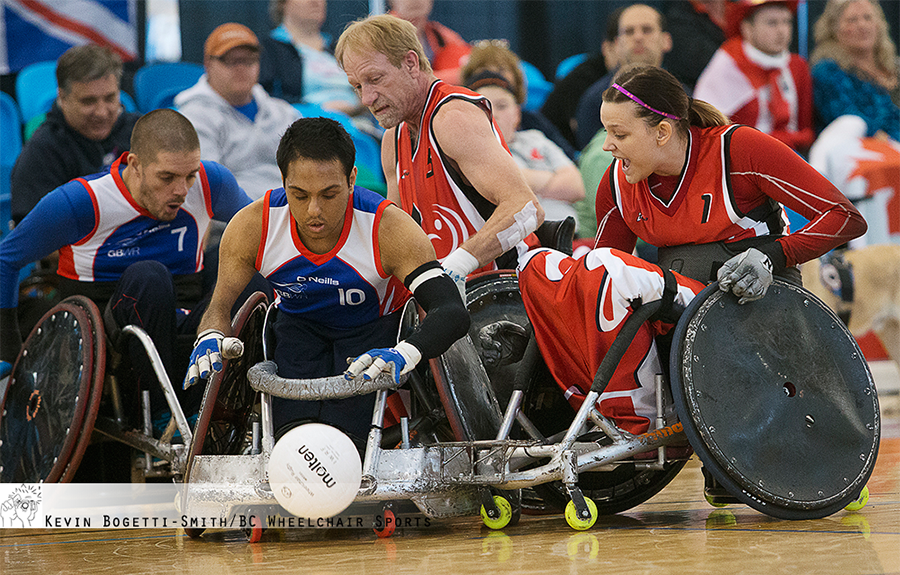 This month's inspiring female role model in sport is Team Canada wheelchair rugby athlete Miranda Biletski. Read on to learn about her motivations for playing the sport and what she aims to achieve. 
Name: Miranda Biletski 
Sport:  Wheelchair Rugby
Hometown: Assiniboia, SK 
Murderball athlete goes for gold
Be selected for Rio 2016. ✔
Since being selected to be a part of the Canadian squad heading to Rio 2016, Miranda Biletski only has one goal in mind now – winning a Paralympic gold medal. (Which would be a nice addition to her silver medal from the 2014 World Championship.)
This year marks her first appearance at the Paralympics, and her seventh year with the Canadian wheelchair rugby team. Having played the sport for 10 years, it's hard for Miranda to pinpoint with words as to why she continues playing.     
 "Initially, the team environment appealed to me. I started playing within a year of my accident. There's something about being in an environment with other people of similar disabilities. There was a learning curve of people teaching you this new life; this secondary type of rehab."
And now?
"Now, it's just second nature. I just love the sport. It's more than anything else."
Given her upbringing, Miranda's answer doesn't come off as surprising. From before she can even remember, Miranda has participated in sports.
"Everything. Obviously did swimming and water polo. I also played basketball, soccer, volleyball, badminton … you name it. I probably played it at some point."
After being involved in an abundance of sports, Miranda decided to pursue water polo competitively. She continued her love for sport and physical activity even after suffering an injury from a diving accident. When asked about a role model who influenced her sport pathway, Miranda doesn't hesitate to mention fellow Canadian and wheelchair athlete, Clayton Gerein.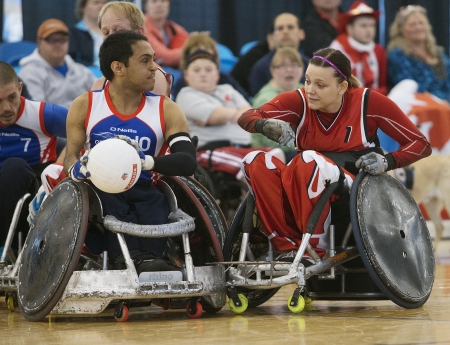 "He was one of the first ones to approach me after my injury; he definitely opened my eyes to adaptive sport and all the options that are out there."
In addition to Clayton, Miranda accredits the aggressive nature of water polo and her encounter with the documentary Murderball as factors that jumpstarted her wheelchair rugby journey. One thing led to another, and the rest is history. 
With only a handful of national level female players, Miranda often receives attention for being the only female on the co-ed team. There's a running joke between the team on how she's the token female interviewee.
That being said, it wasn't always fun and games for this tough athlete. Miranda faced unnerving challenges during her initial years as a high performance athlete. Although now well aware of what role she plays on the team, she admits to having initial doubts about her own confidence and capabilities in comparison to her male counterparts.  
Luckily, she had reassuring teammates and a significant female figure to look up to. When Miranda first started playing the sport, Erica Schmutz was the only woman on the national team. Eventually, she became roommates with her role model.
With Rio 2016 just around the corner, Miranda and the rest of the Canadian team are in heavy training mode at the Pacific Sport Institute for Excellence (PISE) in Victoria. When she's not training, Miranda is either resting or studying for her Bachelor of Management program. She hopes to pursue a career in sport management after her retirement from wheelchair rugby.
Her advice:
"The hardest part is getting started. Once you get started and love what you start to do, you'll beat yourself up for not starting sooner. Getting over that hump is definitely the hardest part!"
Interested in watching Miranda and the rest of Team Canada in full-on action? Watch our upcoming live-stream of 2016 Canada Cup taking place from June 23-26!  
The Women in Sport Spotlight is a monthly series featuring inspirational female athletes, coaches, officials, volunteers, and leaders in British Columbia. Visit our Newsroom and follow us on Twitter or Facebook at @viaSportBC to find the latest edition.