WOMEN IN SPORT SPOTLIGHT: MAY 2015
Jun 01, 2015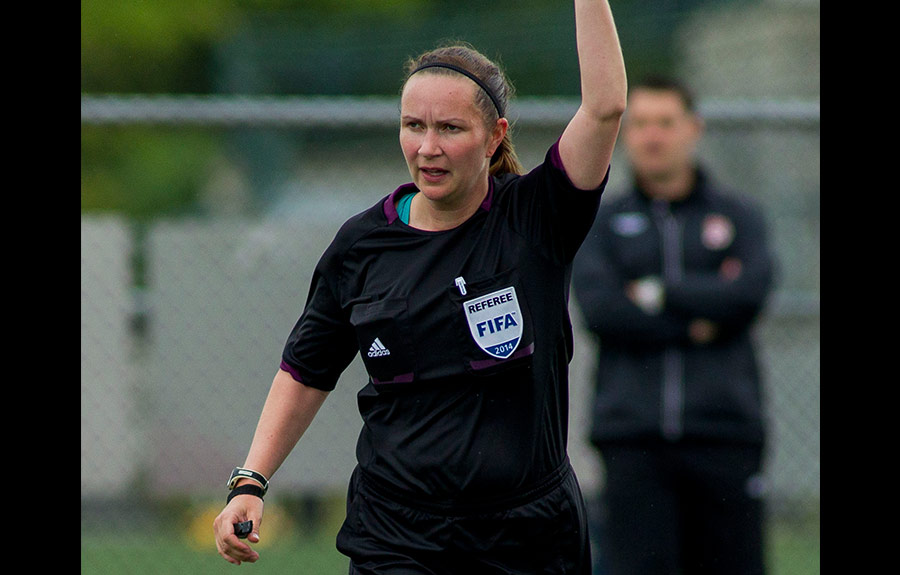 Local Vancouver referee laces up for FIFA Women's World Cup Canada 2015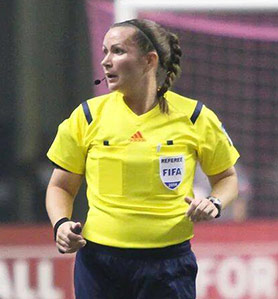 Local Vancouver referee, Michelle Pye, will be in the international spotlight this summer as she laces up for the FIFA Women's World Cup Canada 2015. Pye is one of two referees that will be representing Canada, and the only one from BC on the all-female officiating roster.
Read the full referee roster here.
Taking a break from her day job as a teacher, Michelle is working full-time with a trainer to maintain her physical fitness while balancing her role as a wife and mother of three.
"It is intimidating being a female referee," says Pye. "You have to work that much harder to earn everyone's respect and overcome that attitude that it is still a 'man's game'."
Michelle starting refereeing soccer at the age of 19 with her hometown club – Kamloops Youth Soccer Association. After moving to Vancouver in 2001, she worked her way through the ranks to the regional, provincial and national levels, and was nominated to the FIFA panel in 2007. She made her debut at the FIFA U17 Women's World Cup 2008 in New Zealand and continued on to referee at the U20 Women's World Cup hosted by Canada in 2014.
 "It takes a lot of hard work, a thick skin and most importantly, a strong support system at home," explains Pye. "On the field you put your game face on and stay strong. If you break, you do it at home with your friends and family."
Part of Michelle's local support system includes the staff at BC Soccer – the provincial sport organization responsible for the governance, promotion and development of soccer in BC.
 "It is truly amazing to see her discipline, dedication and desire," says Jose Branco, Referee Development Coordinator from BC Soccer. "It's not easy to balance the training with being a mother of three young children. Michelle has been chosen from hundreds of FIFA Referees in the world and is an inspiration and a role model to both male and female referees in British Columbia."
Follow Michelle and the Women's National Team this summer at www.fifa.com/womensworldcup. With nine matches played right here in Vancouver at BC Place Stadium, there are plenty of opportunities to get a place in the stands.
The Women in Sport Spotlight is a monthly series featuring inspirational female athletes, coaches, officials, volunteers and leaders in British Columbia. Visit our Newsroom and follow us on Twitter @ViaSportBC to find the latest edition.