Women in Sport Spotlight: May 2017
May 26, 2017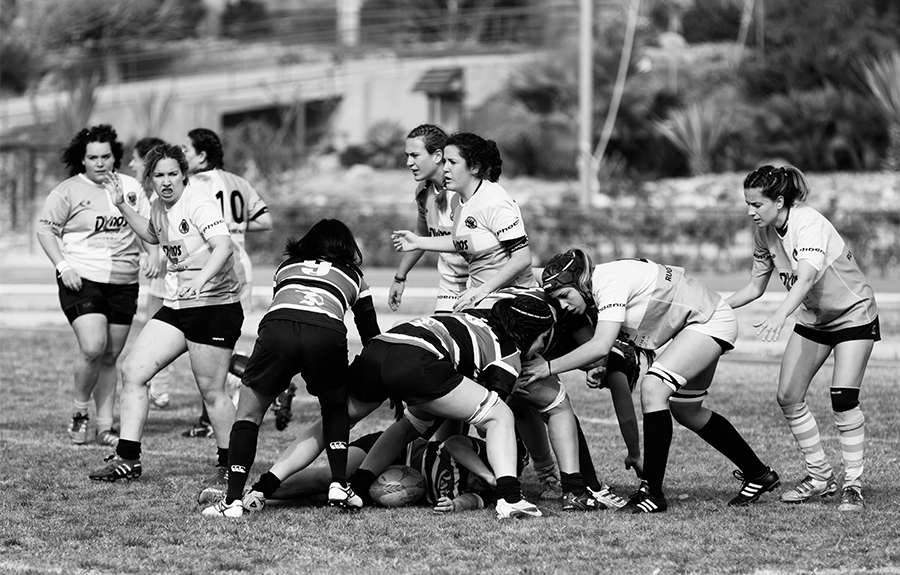 Champions exist off the field too 
"Take the chance and put your hand up. Get involved and you'll never regret it."
Taking her own advice to heart, Tanya Donaldson has been, and continues to be, an irreplaceable contributor to amateur and high performance sport. Currently Manager of the Richmond Tennis Club, Tanya also wears a variety of different hats for BC Rugby as the Tournament Director for the Vancouver Rugby Festival and a Director for their Board. She's also an active member on the Governance Committee and the Competition and Events Committee. In another rugby-related capacity, Tanya works with the Justice Rugby Club as their administrator.
Tanya took a liking to the managerial aspect of sport at a young age. Because her father was a basketball referee, she grew up watching copious amounts of the game. In ninth grade, Tanya channelled the excitement she derived from watching and started managing the boys' basketball team. It was this satisfying experience with the team that pushed her to become even more involved.   
Initially an athletic trainer with BC Rugby, Tanya has since taken on numerous roles with the provincial sport organization at club, regional and provincial levels to grow participation across the province. For over several decades, she has lived and breathed rugby. That being said, she has never actually played the game itself.
"I don't have a husband that plays, I don't have kids that play.  I have just volunteered for over 32 years. I absolutely enjoy watching the game, and have travelled all over the world for the sport."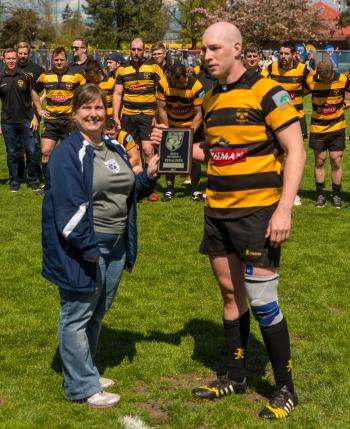 It's the inclusivity of rugby, both on and off the field that fuels her desire to contribute and stay connected. On the field, there's a role for every type of athlete, regardless of ability. Off the field, the welcoming culture of the sport makes it so that everyone feels a sense of belonging.   
Tanya's commitment towards rugby is a mere testament of not only the passion she has for the game, but also for the foundational values of sport as a whole. How it's never solely about winning championships, or exclaiming pride. How the worth of sport is measured by so much more in the form of quality sport experiences.
"Sport creates community. There's lifelong friendships. It helps you to develop leadership skills and it keeps people on a good path. I've seen people make bad decisions, but sport brings them back around. It straightens up their lives to have a more positive contribution."
That's why one of her goals is to help rugby become a mainstream sport in British Columbia. With the recent integration of Rugby Sevens at the Olympic Games, she's seen the increased profile for the sport in general and a growth in female participation across the province. Rumour has it, the first-ever women's rugby game in B.C. occurred in 1974 between Douglas College and Capilano College. Fast forward a handful of years, and B.C. is coming onto its third year of hosting the Women's World Rugby 7's. It's just as Tanya says – more girls and women are playing this sport that was perceived as man's sport. Nowadays, it's much more gender-balanced. Without a doubt, the landscape has opened up, allowing increased participation rates across the board. 
However, there's still more room to grow. One of Tanya's current concerns is getting kids to play at a much younger age, as most aren't introduced to the game until their teen years as they enter high school. For her, starting to throw a rugby ball around when you're six years old is much more ideal. When Tanya served as the President of the Vancouver Rugby Union, introducing local kids to the rugby was at front of mind. She started a mini-rugby program at the Burnaby Lake Rugby Club and is the only woman to have done so.  
Even with all her accomplishments in sport, Tanya is still yearning for more. Currently an applicant to volunteer for the 2018 Commonwealth Games, Tanya also hopes to be involved with one more Summer Olympics. So far, she's been involved as a National Olympic Committee (NOC) Assistant for the 2010 Winter Olympics in Vancouver and the more recent 2016 Summer Olympics in Rio. From local grassroots to the world stage, Tanya continues to transcend the limitless capabilities of what one can achieve through sport.
The Women in Sport Spotlight is a monthly series featuring inspirational female athletes, coaches, officials, volunteers, and leaders in British Columbia.