WOMEN IN SPORT SPOTLIGHT: NOVEMBER 2015
Nov 24, 2015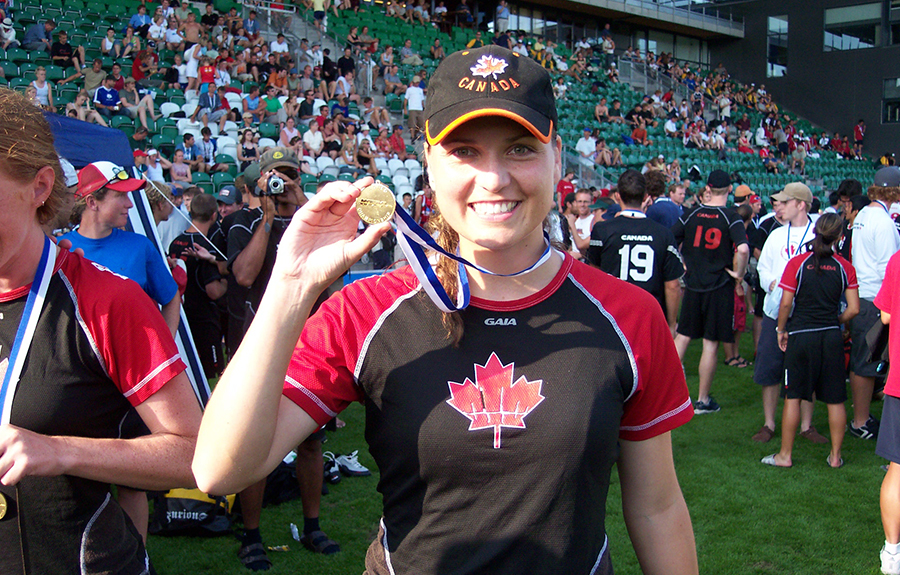 Name: Lara Mussell Savage
Sport:  Ultimate Frisbee
Hometown: Vancouver, BC
Current Residence: Chilliwack, BC
Two-time Aboriginal Ultimate world-champion finds bigger rewards retired than on the field
When asked about her experience as a two-time world champion, Ultimate Frisbee player Lara Mussell Savage can vividly describe the moments she won gold, once in 2000 and again in 2004. However, despite her remarkable success as an athlete, Lara speaks equally—if not more passionately—about life after sport, and the opportunities that emerged upon retirement.
"Sport has done amazing things for my life. I don't compete anymore, I'm not playing at that elite level, but I work in the industry and that comes with even bigger rewards than gold medals do."
Lara was raised on the Skwah First Nation of Stόlō territory in Chilliwack. Now married and a mother of two, she is focused on giving back to the community as a mentor for young Aboriginal athletes with the Aboriginal Sports, Recreation and Physical Activity Partners Council (Partners Council).
She credits receiving the prestigious Tom Longboat National Award for Female Aboriginal Athlete of the Year in 2005 as the moment that opened the door for her to become a mentor in her community.  
"There was a poster made about me by SAY Magazine (for Aboriginal youth) that I still see in and around our community here," explains Mussell Savage. "I have met kids who have recognized me from that poster, or have heard about me and they are able to connect and relate."
Lara retired from Ultimate in 2008 and started her transition into sports administration. Her resume includes work with the UBC Athletics & Recreation department, Air Canada PGA Tour, and VANOC. Now, the standout athlete is following her passion with the Partners Council, and it is here she says she has done some of the most rewarding work of her life.
When asked about the challenges Aboriginal youth face, Lara says, "Suicide is a huge issue in our communities. It runs at epidemic levels, especially up in the North." 
She recalls an afternoon spent with a group of 12 year-olds from a small Nunavut community.
"We're asking them, 'So, what are some of the things sport has taught you?' or 'How has sport helped you?' and this one little guy puts up his hand and says, 'It stops you from thinking about killing yourself.'"
While she embraces her role as an Aboriginal role model, Mussell Savage has also recently become an ambassador for viaSport's Gender Equity #LevelTheField campaign, a province-wide movement that will work to create a more inclusive sport culture in BC.
Lara says there are many women who have inspired her, first, as an athlete, but especially when she transitioned into working as a sport administrator. During her years with the Air Canada PGA Tour, she had the privilege of working with Rachel Lewis, who is now the Vancouver Whitecaps Chief Operating Officer. She praises Lewis for being a trailblazer for women working in sports admin roles, saying she was not only a huge inspiration but one of her favourite people to work with.
While her Frisbee-throwing days may be behind her, the mother of two says she recognizes the amazing role models and unwavering community support she had along the way, and now feels the biggest reward channeling that back into her work with Aboriginal sport in BC.
The Women in Sport Spotlight is a monthly series featuring inspirational female athletes, coaches, officials, volunteers, and leaders in British Columbia. Visit our Newsroom and follow us on Twitter @ViaSportBC to find the latest edition.