Women in Sport Spotlight: November 2016
Nov 30, 2016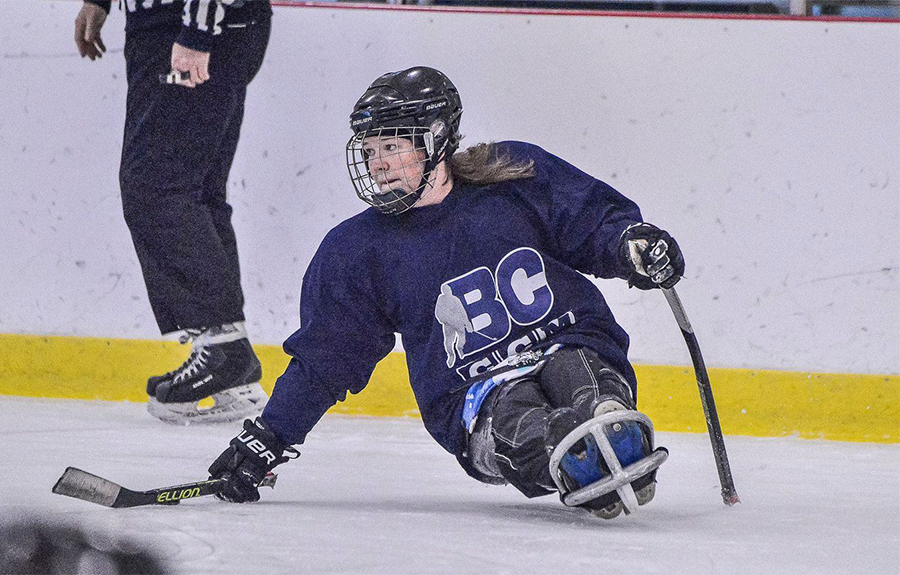 Name: Peggy Assinck
Sport:  Sledge Hockey
Hometown: Peterborough, Ontario
To grow a sport beyond your borders
The accessibility challenge
"Millennium Line to VCC Clark."
"The next station is Main Street – Science World."
Living in Vancouver, these words are quickly recognized at first glance. Anyone who commutes in this city has most likely taken a Skytrain to reach a destination. The ease of transiting in this city has appealed to many athletes, from grassroots to competitive.
Not to say it's effortless, however. Just imagine a hockey player having to commute with all their gear on crammed trains and buses to practices. Exasperating, really – as if lugging kilograms of sports equipment from the car to rink wasn't tiring enough already.
For BC-based sledge hockey athlete Peggy Assinck, taking public transport to the rink would be a dream. Paralyzed from the waist down, Assinck doesn't have the same luxury of getting around as some of her able-bodied peers. There's also a lot more to consider – is the hockey arena accessible? Can I get out onto the ice efficiently? Do I have access to a vehicle to transport all of my equipment?
"There's just a lot of barriers still in my life. I think about able bodied athletes and the fact that they often don't have to deal with a lot of those barriers," Assinck says. 
Although born with spina bifida, a defect in her spinal cord, Assinck experienced an active childhood alongside her equally active peers. Soccer, track and field, snowshoeing, just to name a few. Other than her family, nobody knew that she had a disability.
That is, until she was 11 years old and walking home from school after a track meet when she suddenly lost all function below her legs. Assinck went from being an able-bodied kid to being paralyzed below her waist. For the next six years, the hospital became her inevitable second home. With each spinal cord surgery, Assinck's body was forced to relearn, forced to realize the loss of function. Every visit to the hospital seemed like a never-ending, uphill battle.
Through it all, sport played an important role in her life. The closest adaptive sport of sledge hockey was an hour away, but the distance didn't stop her loving and supporting mom from driving her daughter to try it out – after all, what was there to lose?
The naturally-inclined athlete fell in love with the adaptive sport. From the sheer competitiveness to the hard-hitting contact, everything about sledge hockey resonated with her. Had it not been for her natural affinity towards sport, Assinck doubts whether she would've been able to make the vast improvements that she's witnessed over the years.
"When I was younger and dealing with medical issues and surgeries, sport was what kept me motivated to do the rehabilitation," says Assinck. "To work hard and get back to that level where I could get back on the ice."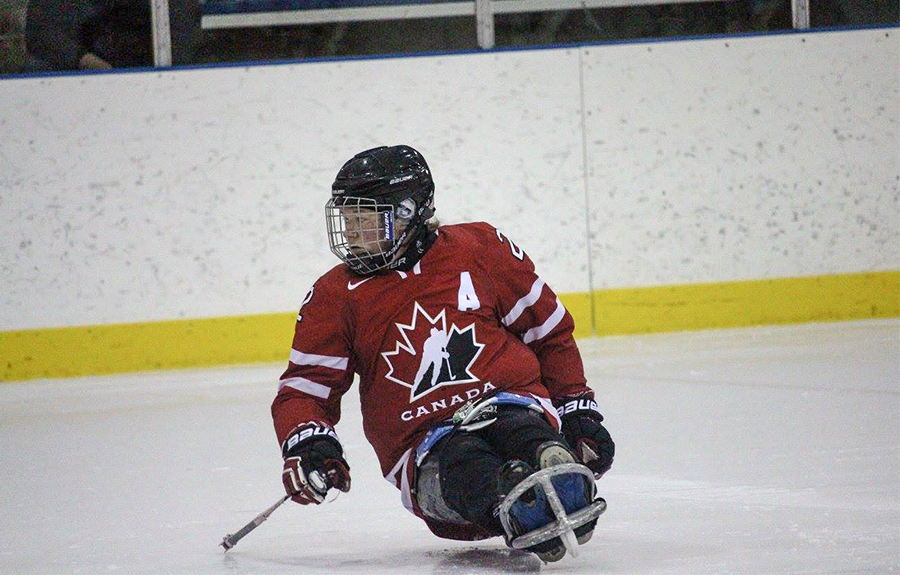 Woes of women's sledge hockey
She's been playing this sport for as long as she can remember–22 years. Of these 22 years, seven have been with the Canadian national women's team. With Canada's incredible success in winter sports, one would expect a handful of World Cup and Paralympic medals from this women's team.
Unfortunately, there haven't been opportunities for the team to achieve that level of success, only because women's sledge hockey has yet to be recognized as an official Paralympic sport. In addition to not being able to compete at the Games, the lack of recognition brings on a whirlwind of other problems including funding. Currently a self-funded sport, the women's sledge hockey team isn't able to receive financial support from Hockey Canada and the Canadian Paralympic Committee (CPC). It hasn't been easy for Assinck, who is also currently pursuing a phD on spinal cord injury at the University of British Columbia.
"I currently spend a lot of time to find funds and travel to stay competitive with athletes who are getting easy access to competition and ice time," she says.    
So why the lack of acknowledgement for women's sledge hockey? On the other side of the genetic fence, men have been competing since the 2006 Winter Paralympic Games, but women continue to struggle to have their sport recognized at the Paralympic level.
Apparently, it's a lot easier than it sounds. Assinck explains how there needs to be enough women's teams from countries equally distributed across the continents for a sport to be considered. As it stands now, the well-developed teams in Canada, the United States and Europe aren't enough to make the cut-off. There simply isn't enough global interest.
This bottleneck is both challenging and frustrating, but Assinck and the rest of her teammates stay positive. Just two years ago, Canada played host to the first sanctioned IPC Women's Sledge Hockey World Cup. In addition, they've been actively working together with Hockey Canada and the IPC to grow the women's sledge hockey movement and the number of teams worldwide.
 "It's all moving in the right direction, and hopefully we'll have an approved women's sledge hockey auction in the Paralympics in the future," says Assinck.
Correction: An earlier version of this article misstated the type of IPC-sanctioned event.