Women in Sport Spotlight: September 2016
Sep 28, 2016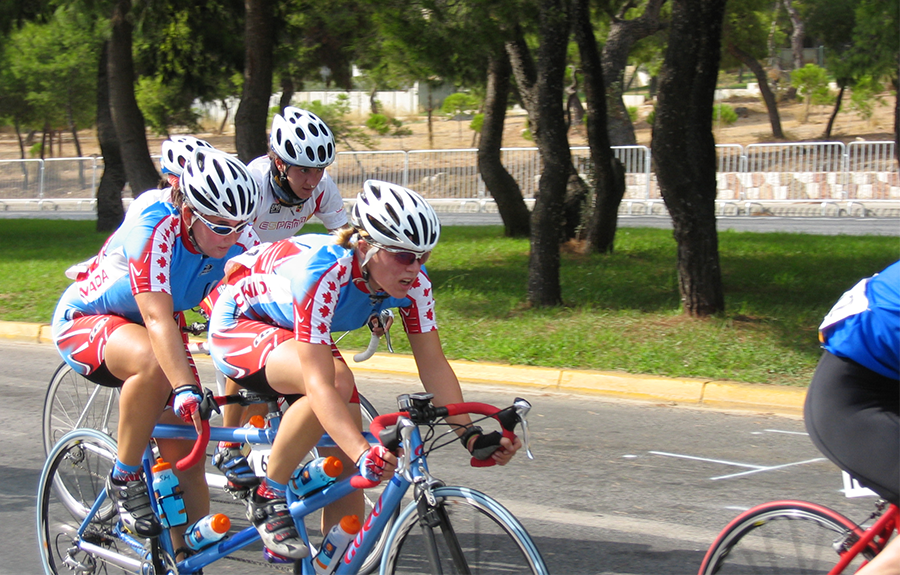 This month's inspiring female role model in sport is Paralympian, Shawn Marsolais. Read on to learn about her determination to succeed, both in the pool and on the track.    
Name: Shawn Marsolais
Sport: Cycling Track  
Hometown: New Westminster
From the pool to the track, and everything in between
Two years. 730 days. 17,520 hours.
The amount of time between subsequent Olympic and Paralympic Games. The amount of time world class athletes spend preparing for the world stage. The amount of time it takes for a non-cyclist to compete as a cyclist at the Paralympics.
"It was unheard of at the time!" claims Shawn Marsolais, a Paralympian who accomplished just that, competing at the 2004 Paralympics in Athens twelve years ago.
Not only could she not see, Shawn didn't think she could be athletic and pursue sport.
"I didn't understand at the time. I thought that I couldn't participate in sport because of my visual impairment." 
That being said, she became drawn to swimming at the age of 13. Her time in a swim club was short lived, however; her parents couldn't afford for her to stay. Five years later, she crossed paths with sport once again after learning about the Canada Summer Games coming to Kamloops.
"For the first time ever, they were going to have a couple events for blind swimmers." says Shawn. "They were going to invite athletes with a disability to participate."
The second she found about the Games, a flame sparked from within. She contacted BC Blind Sports, became involved with a swim club, and found herself competing in Kamloops. She wasn't expecting to be interviewed as much as she was, especially since her 50m freestyle event was over in a blink of an eye.
One of her interviews was with a reporter from French CBC, asking Shawn whether she was going to the Paralympics in Athens. Little did 18-year-old Shawn know that the flame inside of her would burst into a million sparks. Right there and then, she decided, "Yes, I want to go!"
Shawn trained relentlessly for three years, day in and day out. Unfortunately, she was an alternate for Atlanta. Two years later, she missed the national team for the world championships.
She goes on to explain how qualifying for the national team isn't as black and white as it may seem.
"Everyone is distinguished based on your disability and classification. It didn't work in my favour because everything is based on the world record. Someone who loses vision later in life after knowing how to swim is different than someone than someone who needs to learn the mechanics of the stroke while being blind. It's not likely that someone born blind is going to be faster than someone who acquired a vision loss later in life."
Struggling with whether to continue training, Shawn decided to pursue the Paralympics for another two years. (That is, until she broke her leg in three places in an accident while walking along the Seawall in Vancouver.)
At this point, she decided to throw in the towel and retire from sport entirely. After finishing her degree, Shawn moved to England to focus on her career while working at a school for the blind. During this time, she stayed reasonably fit through recreational swimming and dragon boating.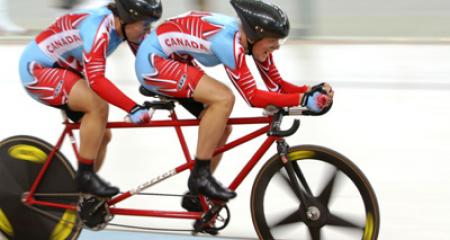 Four years later, Shawn heard the BC Summer Games calling her name. However, she wasn't being called to swim this time. Instead, the Games were looking for blind athletes to compete in cycling. After blindly pedalling for a whopping forty kilometres, Shawn and her partner, (coincidentally also named Sean), unexpectedly emerged victorious. Again, Shawn was asked the million dollar question: "Are you going to compete at the Paralympics in cycling?"
Shawn struggled with her answer this time around. "I thought to myself, do I want to put all my eggs in that basket again? I was so devastated from swimming."
Her devastation quickly became her source for victory. Having never accomplished her dream, Shawn set out to do so, becoming the only blind female cyclist in Canada at the time. After two years of living and breathing cycling, the 2003 World Championships in Quebec became a reality. However, her coach thought otherwise. Determined to compete, Shawn boldly appealed her coach's decision to not let her and her partner attend the championships. Her appeal proved successful as they achieved a bronze medal. They had qualified for the 2004 Paralympic Games. Her dream had finally been accomplished.   
Nowadays, Shawn is the Executive Director of Blind Beginnings, a non-profit she founded that provides services to blind or partially sighted children and youth across B.C. Through Blind Beginnings, she encourages children to become involved in sport. A fruitful partnership with BC Blind sports allows children to be taught physical literacy skills, such as running and jumping. Shawn accredits her experience in sports as a motivator in program offerings at Blind Beginnings. "I didn't start until I was 18. Wow – imagine if I had started swimming if I was six or seven – how far I would have gone."
Her advice for those interested in sport:
"There so many advantages to having sport in your life. You feel great and you get to meet people. It's fun. If you're good, you can go up the ranks, travel, and see the world. Go for it!"
The Women in Sport Spotlight is a monthly series featuring inspirational female athletes, coaches, officials, volunteers, and leaders in British Columbia. Visit our Newsroom and follow us on Twitter or Facebook at @viaSportBC to find the latest edition.