#WomensHistoryMonth with Sonia Schina: Hitting the Volunteer Bullseye
Oct 04, 2023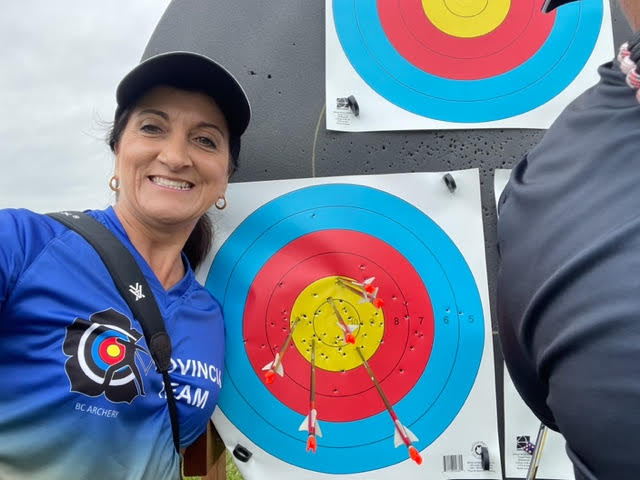 Every year, the month of October is dedicated to celebrating Women's History Month, a time when we honour and pay tribute to the remarkable achievements, contributions, and resilience of women throughout history. For us at viaSport, it's a moment to shine a spotlight on the often unsung heroines who made an impact in the BC amateur sport community. In this article, we delve into the inspiring journey of a female volunteer trailblazer, a woman whose dedication, passion, and generosity have not only transformed the lives of those she touched but have also sparked lasting change in her community and beyond.
---
Beyond aiming for bullseyes in tournaments, Sonia Schina has made a habit of hitting volunteer targets.
After her tenure as the Executive Director of BC Archery, she transitioned into her current volunteer position as a Performance Team Coordinator within the organization. Additionally, Sonia holds the role of Archery Provincial Advisor for the BC Winter Games and actively participates in volunteer capacities for Archery Canada and her local club, the Southern Okanagan Sportsmen's Association in Oliver.
Sonia's journey in sport started later in her life. In her 30s she found herself in a challenging place, questioning her direction, goals, and future, but "Sport gave me back my confidence. I grew in my sport and made a bunch of new friends. My dreams and abilities had always been questioned, but by participating at my local club, then eventually on a National Team, I can honestly say I trust and respect my knowledge and abilities."
When Sonia first started competing at club tournaments, she stepped up to help her instructors organize and run the events. She noticed the same few people always do the work and wanted to join the action.
"I'm not one to sit idly by and watch other people do the work," says Sonia. "I believe that if you think things can be done better, you need to step up and prove it. So, here I am."
Sonia's extra involvement in events launched her volunteering journey. She began by taking a position on her club board, which led to her becoming the President for several years. As she started competing nationally and internationally, Sonia supplemented her training with volunteer shifts at Archery Canada and BC Archery. The role with BC Archery eventually turned into the Executive Director position, where she stayed for six years.
Volunteerism sits at the core of Sonia's ongoing sport experience. She hopes to see more volunteers and participation in the sport community in the future. "Get out and try a sport, any sport — you might really have some fun and meet some great people. Offer to help, even if that person looks like they have everything under control. They appreciate a hand, even if it's just distributing scorecards or writing down participant names."
She hopes to set a positive example and encourages folks to expand their horizons. "By being a female sport administrator and a mature female athlete, I hope that I'm portraying possibilities to other women and girls."
---
viaSport British Columbia would like to thank female athletes, coaches, officials, volunteers and other women for their contributions and dedication to making sport better.
If you're interested in learning more about volunteerism or ways to get involved, please visit our volunteerism page.