viaSport announces Coach of the Year Award winners for 2021
Apr 12, 2022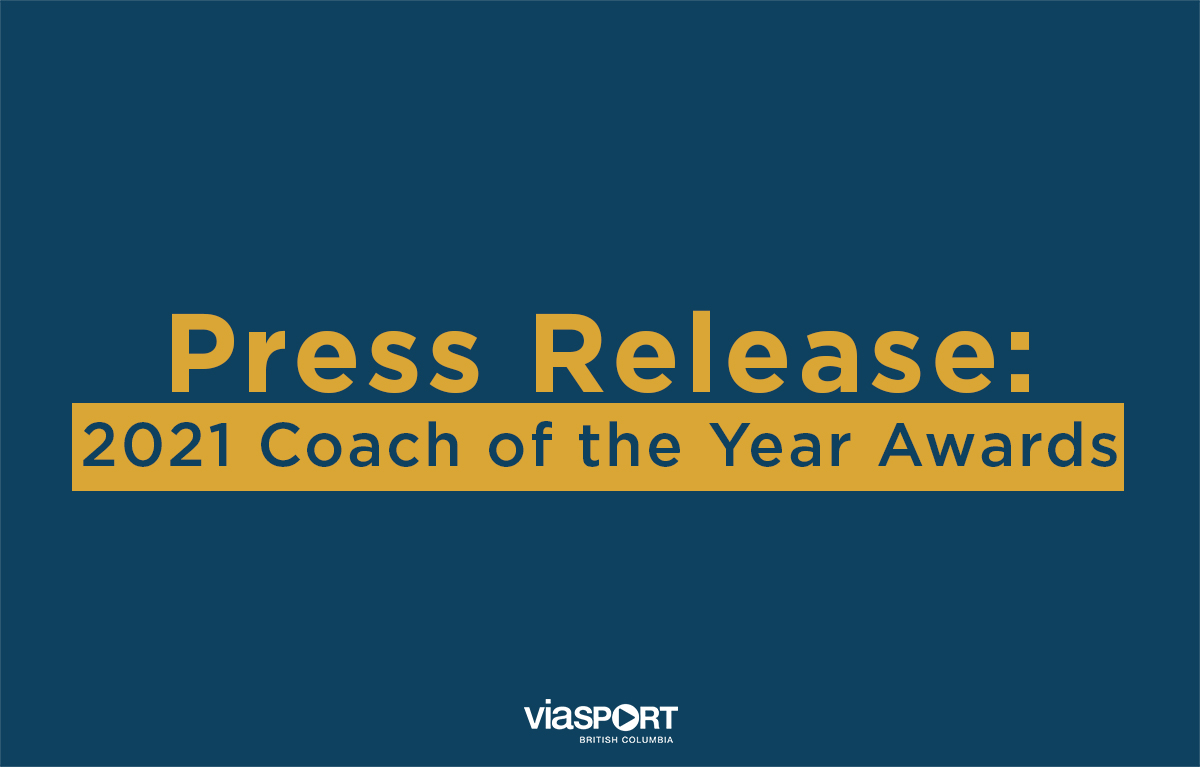 (Vancouver, B.C.) – The annual viaSport Coach of the Year Awards recognize outstanding coaches in three categories for their leadership, dedication, contributions to sport, coaching abilities and achievements. This year's winners are Chris Nakonechny, High Performance Coach of the Year; Timothy Sherstobitoff, Competition Coach of the Year; and Taryn Vansickle, Community Coach of the Year.
"viaSport's vision for inclusive sport experiences is at the core of these awards. We know that each level of sport is crucial in offering British Columbians opportunities to participate in sport at the community level, through competition or high-performance sport," said Charlene Krepiakevich, CEO of viaSport British Columbia. "Congratulations Taryn, Timothy and Chris! You are all incredible role models and your dedication to sport elevates the capacity of the sport community across the province."
Each year, people across B.C. sport are asked to nominate a deserving coach in their community for viaSport's annual Coach of the Year Awards, and each year the expert selection panel is blown away by the candidates. This year, dozens of nominations were received detailing the positive impact and passion each coach has demonstrated in their sport and community. The Bob Bearpark Foundation, which supports these awards was built on the legacy of continuous development in coaching. Each winner will receive a $250 bursary from the foundation.
Each nominated coach is evaluated on their lifetime work and impact, but it is important to recognize that over the last two challenging years, coaches have been a huge part of shaping a safe and successful return to sport. This year's Coach of the Year Award recipients are shining examples of the quality, passion and resilience of B.C. coaches.
Chris Nakonechny – High Performance Coach of the Year, North Vancouver
Chris has made significant contributions to snowboarding in B.C. and the overall development of the sport through his commitment, dedication and leadership. With a proven record of athlete results, including coaching an athlete who went on to compete in the Olympics, Chris has been instrumental in creating a successful B.C. program that continually moves athletes to the national team.
Chris has completed the NCCP Advanced Coaching Diploma and, in 2019, obtained a Master's Degree in High Performance Coaching and Technical Leadership from the University of British Columbia (UBC).  Under Chris' leadership, BC Snowboard has been able to apply robust and ongoing monitoring for the athletes. This work has enabled a significantly robust level of planning that is informed by gap analysis, which is considered exemplary for other sports.
One of Chris' greatest strengths is his ability to interact with athletes. Most recently he has been instrumental in supporting the development of Meryeta Odine before she went on to compete in the 2022 Beijing and winning a Bronze medal. Through analysis, Chris helped to identify a tactical strategy for Meryeta that contributed to her success . 
Timothy Sherstobitoff – Competition Coach of the Year, North Vancouver
Timothy is the Head Coach and Program Director for the Devo Youth Cycling Club in the Lower Mainland. Having coached at the club, provincial and national team level, he has utilized over 10 years of experience to grow Canada's longest standing multi-disciplinary programs. Under Tim's stewardship, Devo Cycling Club has seen a significant increase in athletes from 53 athletes in 2014 to 87 athletes in 2021.
Coach Tim has acted in a provincial coach role and has coordinated, planned and executed B.C. Provincial Team trips abroad. His travel includes trips for Stage races, National Championships, training camps and selection events. Tim coached at the Junior World Championships with Cycling Canada on two occasions. He worked with the Junior Track Worlds Team, where he was directly responsible for athlete preparation and tactics. More recently, Tim was the Lead Coach for the junior women at the Junior Road Worlds Cycling competition.
Exemplifying his unique skills as a coach, Tim has been involved in the development of 12 Junior National Champions, six athletes at Junior Worlds and has produced 52 Junior National Championship Medals, across the disciplines of track, road, cross country and cyclocross.
Taryn Vansickle – Community Coach of the Year, Prince George
Taryn has been working with the Prince George Blizzard Speed Skating Club for 27 years. She has worked with many young athletes. Some of them have made skating a lifelong sport and some of them have followed their dream of being a member of the national team.
Always positive and encouraging to all athletes, Taryn believes in the importance of spending time learning the basics and developing core skills. Lesson plans always include a healthy mix of competition and fun, which keeps athletes of all ages, skills and abilities, engaged and motivated. She is known as a fierce cheerleader for all skaters at meets and has actively been a mentor for other coaches in her community.  
As a role model, Taryn continually shares her experience and education with all athletes and coaches. Within her club she acts as the coach coordinator and implements the PG Blizzard Junior Coaching Program, a program focused on mentoring young coaches. Taryn also regularly participates in local seminars and workshops offered within her region to continue her own development.. Over the years Taryn has also acted as a B.C. Provincial Coach and a BC Games Zone Coach.
---
Congratulations to this year's Coach of the Year Award winners! In the coming weeks, each coach will share more about their journey, learnings and advice for other coaches and athletes. Stay tuned!