Watch Canada Games TV TODAY — the first-ever on-site news show covering the Canada Winter Games
Jan 30, 2015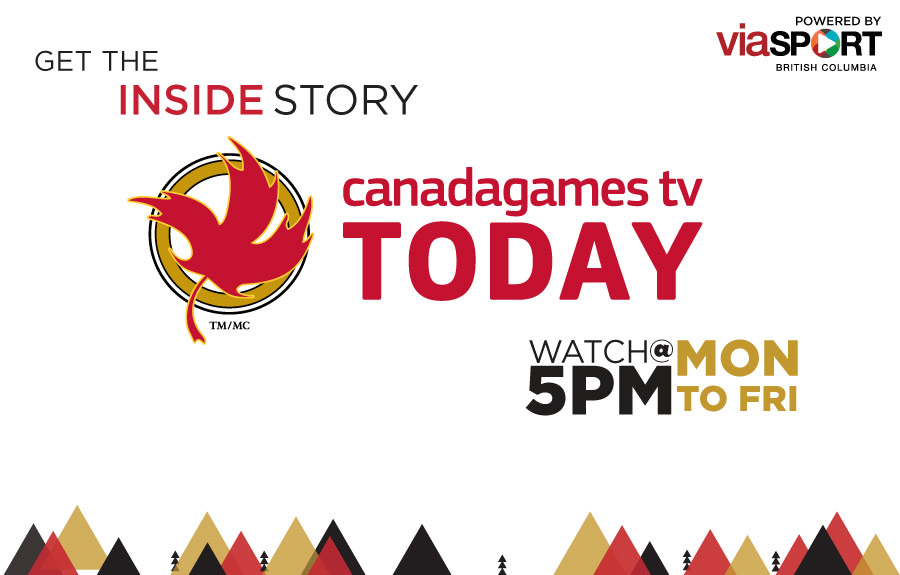 Prince George, BC – For the first time, you can get the inside story of the Canada Winter Games from anywhere in the world. Canada Games TV TODAY is your window to the Games' untold stories and inspiring moments with behind-the-scenes coverage, athlete interviews, alumni features and more. You can watch the 30-minute news and entertainment show at home or on-the-go, from your desktop or mobile device.
See a preview now at www.cgtvtoday.ca
Canadian Olympic fencer, Pan American champion and Canada Games alumnus, Philippe Beaudry, will host the show in both English and French starting at 5 pm PT each weeknight of the Games.
"I began fencing at age 13 and remember competing at the Canada Games," recalls Beaudry. "The event introduced me to the thrill of high-level competition and prepared me to represent Canada in the Olympics and the Pan American Games. I am excited to help bring the thrill of this competition to sports fans throughout Canada and around the world."   
Canada Games TV TODAY is produced by viaSport TV in partnership with the 2015 Canada Winter Games, the Canada Games Council, Destination BC and British Columbia Institute of Technology (BCIT)—21 BCIT broadcast students will gain hands-on experience working at this major, live sports event.
"This is the first time in history that all Canadians will be able to witness the excitement of the Canada Winter Games," says viaSport CEO and Canada Games alumna Cathy Priestner Allinger. "viaSport means through sport, and this show is one of the ways that we are helping to inspire people and energize communities via sport."
"viaSport has made a fantastic choice in the selection of their host for Canada Games TV TODAY," says Stuart Ballantyne, CEO 2015 Canada Winter Games. "As a young Olympic fencer, Pan American champion and Canada Games alumnus, Philippe is a great role model for the athletes that he will be interviewing and interacting with at 2015 Games time."
"The Canada Games TV Today partnership between viaSport and BCIT Broadcast and Media Communications offers BCIT students a unique opportunity to tell the stories of the athletes, participants and community involved in the 2015 Canada Winter Games in Prince George," says Randy Singer, Associate Dean of the BCIT Broadcast and Media Communications Program.  "The 2015 Canada Winter Games enable BCIT Broadcast students to apply their specialized training in news and sports programming, developing and producing stories, editing and content delivery, while gaining valuable experience and enhancing their learning, in a real-world, sports event environment."
Cheer on Canada's young athletes at www.cgtvtoday.ca or follow the action on Twitter @ViaSportBC or by using the hashtag #cgtvtoday  
 – 30 –
About viaSport British Columbia: viaSport British Columbia is a not-for-profit organization established in 2011, responsible for providing strategic leadership to sport in BC. Formed in partnership with the provincial sport sector and the Province of BC, our mandate is to increase awareness, opportunity and participation in sport across the province at every stage of life and in every community. Learn more at www.viasport.ca
Contacts:
Erica Branda
Director of Media & Communications
ViaSport
778-655-1759
ericab@viasport.ca