Team Up Series Part 2: Designing socially and culturally inclusive sport activities
Dec 13, 2022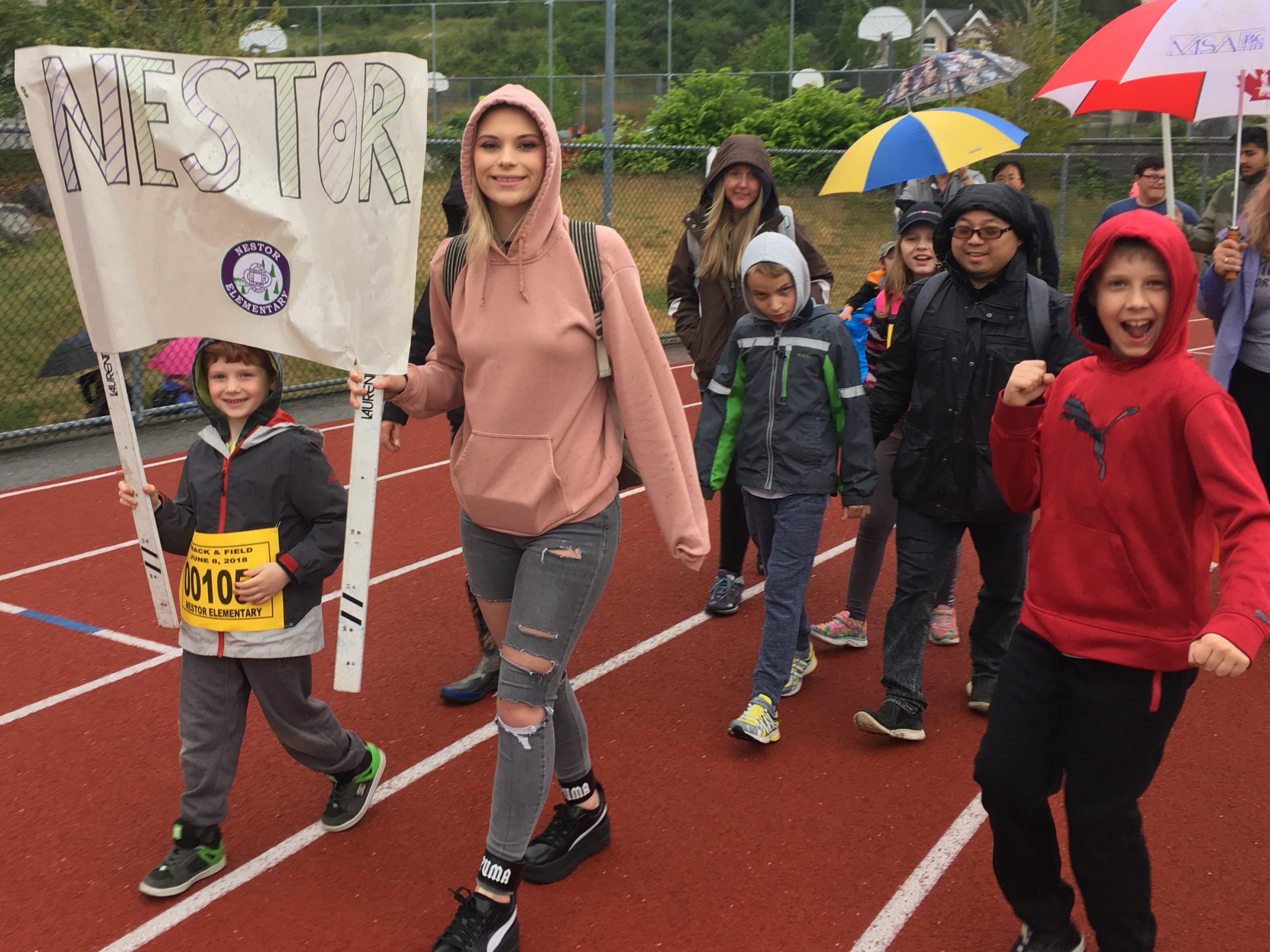 In our second installment of the Team Up grant series, we are excited to feature two outstanding initiatives that focus on creating inclusive environments for groups that face added barriers to sport participation. The City of Victoria has teamed up with the British Columbia Muslim Association (BCMA) to offer swimming lessons for girls and women in a culturally sensitive context. Meanwhile, Moresports BC is working with West Coast Family Centers to provide accessible multi-sport programming for children and youth who face social, economic, or cultural barriers to traditional community and school sport participation. We had the opportunity to catch up with representatives from both programs to get an update on the progress and impact of their Team Up initiatives!
City of Victoria and British Columbia Muslim Association: Culturally-sensitive female-only swimming lessons
Throughout the fall of 2022, the City of Victoria and BCMA are collaborating to offer bi-weekly swimming lessons for Muslim girls and women. Muslim girls past a certain age face barriers to swimming in traditional community settings due to their religious requirement to be fully covered in public. The City of Victoria's aquatics coordinator, Leigh Peirce, explained that the lessons run after hours led by an all-women staff "to provide a private and safe environment for swimming lessons with a culturally sensitive lens."
The City of Victoria and BCMA have worked together in the past to deliver similar programming. In fact, the two organizations have been working together for over eight years, making accommodations that provide an opportunity for Muslim women and youth to participate swimming lessons that would otherwise be inaccessible to them. The City of Victoria provides the pool, the staff, and the culturally respectful environment, while BCMA provides the participants, advertises the swims, and coordinates delivery with City of Victoria staff. Leigh reflected that the Team Up grant provided "an excellent opportunity to continue similar programs so that we could improve access to swimming for this community."
The British Columbia Muslim Association's sports director, Nadya Schweyck, shared that the BCMA was equally keen to formalize their partnership through Team Up. They saw the grant as an opportunity "to collaborate with a partner that promotes and supports equitable sports opportunities to minority communities in Victoria and to develop a robust sports program for women and youth in the Muslim community."
This initiative is part of a broader effort from BCMA to encourage young Muslim women and girls to participate in sport by providing safe and accessible opportunities. The BCMA offers a wide variety of women-only sport activities, including basketball, Zumba, and tennis. They hope to continue to build community and facilitate skill development through sport by expanding their programming in the near future.  
"We hope to reach out to more ladies and teenage girls in order to help them engage in more sports activities," Nadya said. "By facilitating amateur sports activities, we envision strengthening the community by creating a sense of belonging. [We aim to] engage and involve more new immigrant ladies with limited English proficiency to build up their confidence through sports activities."
Moresports BC and West Coast Family Centres: Teaming up in the TriCities
Moresports BC and West Coast Family Centres are working together to bring quality sport programming to underserved populations in the Tri-Cities, including Coquitlam, Port Coquitlam, and Port Moody. Moresports BC works with a wide range of community partners, with connections in the school systems and municipalities, to deliver accessible programming and encourage youth leadership. Moresports BC's Tri-cities hub director and board chair, Jeff Stromgren, shared his insights on the organization, highlighting their focus on youth leadership and community collaboration.
"Our ability to navigate across systems is our special sauce to make programming accessible and available to kids and youth," Jeff explained. "Empowering youth to take the lead in sports and recreation leadership is part of our operational model. Moresports works in neighbourhoods 'doing with, not for' those who are part of that community."  
Moresports BC developed a relationship with West Coast Family Centres (WCF) through their mutual participation on the Tri-Cities Kids Matter committees. WCF uses a strengths-based approach to support  families who are experiencing difficulties to access community services. Through this partnership, Moresports BC identifies appropriate programs and invites children and youth from WCF, often accompanied by WCF's youth workers, to join these programs at no cost or at a reduced cost. Jeff reflected on the development of the two organizations' partnership:  
"We had been spit-balling ideas for a long time and did a small camp project together a summer ago. We felt with the Team Up Grant opportunity we could use it as an impetus to ramp up our work together."
Their Team Up program runs through the fall and winter with individualized accommodations based on the unique barriers of each WCF participant. Their program provides multi-sport activities that will culminate in a week-long spring break camp with opportunities for youth leaders to put their new skills into practice.
The Team Up Impact
Both of these initiatives demonstrate the importance of sport programming that meets the unique needs of communities that face barriers to access in traditional sport settings. Similar to City of Victoria and BCMA, Moresports BC is taking practical steps to make its initiative and its partnership with WCF sustainable and accessible for underserved communities.
"WCF and Moresports are happy to be working together. We meet, discuss opportunities, look at coordination and navigation of the systems together, and then work through the steps together. This kind of collaboration is necessary when trying to build something in neighbourhoods with families who face vulnerabilities such as transportation, food security, and child-care," Jeff explained. "We hope to see outcomes that make communities look inward to develop assets for the families. We would like to see small leagues form that can be the landing place for kids who want to play, regardless of their abilities or their ability to pay. We are seeing a lot of these things emerging, and we believe our work with the Team Up project will get us even closer to that end."
At viaSport, we recognize that many groups and individuals face unique barriers that can impede their access to traditional sport participation. The kind of work of these organizations and their Team Up iniitatives have done will be instrumental as we create a more equitable sport system for all living in British Columbia together.