Team Up Series Part 3: "Rebuilding New Boxes" for Accessible Sport Participation
Dec 22, 2022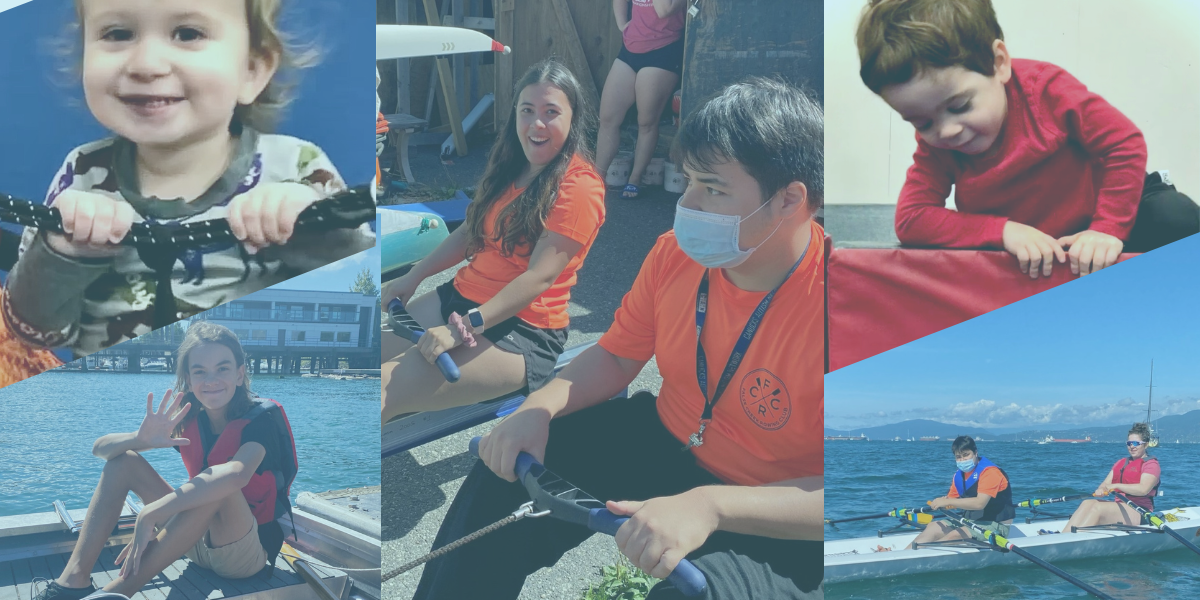 In our final chapter of the Team Up series for 2022, we have the pleasure to introduce two fantastic initiatives focused on improving opportunities for sport participation among individuals with disabilities. The Selkirk Challengers Gymnastics Club and Kootenay Family Place are working together to provide free gymnastics programming to young people with physical disabilities or neurodiversity. Meanwhile, Rowing BC is working with a variety of partner organizations to reach underrepresented demographics in their sport. One of those partners is the Canucks Autism Network, who teamed up with Rowing BC to deliver rowing programs to youth on the autism spectrum in three locations across the Lower Mainland and Vancouver Island.  
Selkirk Challengers Gymnastics Club and Kootenay Family Place: Gym 4 All
The Selkirk Challengers Gymnastics Club has offered recreational and competitive gymnastics programming for youth of all ages since 2002, from parent and tot classes to competitive teen programs that compete provincially. Its partnership with Kootenay Family Place (KFP) began in 2020, when KFP reached out with a request to financially support select participants in the Selkirk Challengers program using grant funding through KFP. Selkirk Challengers' office manager, Amy Lockhart, reflected on the development of their partnership:
"These gymnasts were living with disabilities and KFP felt that our programming could offer a safe space for them to develop their physical skills. We provided a discount to KFP as we felt this type of service was important to the community, and because our head coach, Rhonda, was so passionate about providing this service," Amy explained.
"KFP's previous grant funds were completely dispersed by the spring of 2022, and then we were informed of the Team Up grant by our local viaSport [Regional Sport Alliance] rep. Both of our organizations felt this was a wonderful opportunity to keep the service going! We had worked together so well in the past, and it has been so rewarding working with such amazing, dedicated families, so we didn't want to give up on the partnership."
The current initiative operates using a referral system through KFP, where young gymnasts with physical disabilities or neurodiversity in any age group can access free gymnastics programming with the Selkirk Challengers. When programming started in September, there were two young gymnasts enrolled whose weekly gymnastics programming would be fully funded by the Team Up project. Their goal for the 2022-2023 season is to support eight gymnasts through the Team Up project. With the tremendous success of their initiative, it is important to the Selkirk Challengers to continue their partnership with KFP and this program long-term.  
"We are proud to work with KFP! Both of our organizations have so much love and support for the children of our community and their families," Amy said. "It has been such an amazing experience to work with a social service organization and we feel that adds so much value to our club! This grant has enabled both of our organizations to continue a program that believes in inclusivity and diversity. We believe that our community and our club are better because of the openness and acceptance that we portray. This partnership is a small step in the many steps our club hopes to take in supporting our community as a whole."
Rowing BC and Canucks Autism Network: Creating a Diverse, Equitable and Inclusive Rowing Community Across B.C.
Rowing BC supports over 3,500 participants in more than 40 local rowing organizations across B.C. Its focus on growing and diversifying the rowing community is a catalyst for its current 'Grow Rowing' initiative. Rowing BC's manager of member services, Sonja Lonne, explained their approach to developing the sport among new audiences:
"We are creating new partnerships to help us reach out to previously under-represented demographics of participants, creating custom-made and innovative program models and opportunities for rowing experiences, and expanding the range of equipment utilized to make sure there really is a place in rowing for all who want to be involved."
Rowing BC first established a relationship with Canucks Autism Network (CAN) in 2021 through a pilot project funded by Rowing Canada. Canucks Autism Network, an organization that provides programs for individuals on the autism spectrum, facilitated a training workshop for Rowing BC that grew into a much bigger undertaking.
"The plan was to offer programming in exchange for training, but from our initial meeting it was clear that there was interest for much more than this one-time exchange," said Stephanie Jull, Vice-President of programs, training, and community engagement for Canucks Autism Network. "Rowing BC doesn't just talk about inclusion: they take action and invest time and energy to create meaningful opportunities for youth who may otherwise not have the opportunity to participate in sport. We have been consistently impressed with the welcoming environment and the commitment of the Rowing BC coaches to implementing what they learned during the autism training we provided. They are an outstanding organization to work with and our participants are benefiting tremendously from this partnership." 
Their joint initiative involves low-cost, low barrier programming for individuals on the autism spectrum who have traditionally had limited access to the sport. Both Stephanie and Sonja expressed the enormous success of the program up to this point, with 32 autistic youth and adults across the province having completed the "Intro to Rowing" program, several of which have continued on to more independent programs called "Supported Rowing." In an effort to offer sustainable access to the sport, Rowing BC relies on the expertise of their community partners to help them provide follow-up access to the sport for participants who really enjoy it.
"What is most exciting about this relationship is that Rowing BC has been able to ensure that CAN participants continue to have opportunities to row in their community, into their club's 'mainstream' programs by increasing independence in participants and increasing autism knowledge and experience in Rowing BC coaches," Stephanie explained.
This initiative demonstrates a commitment from both partners to re-define traditional sport participation. Sonja elaborated on Rowing BC's approach to providing inclusive access to their sport through community partnerships:
"Here at Rowing BC, we believe in a listening-first approach to diversity, equity, and inclusion initiatives. Instead of trying to make others fit into the box of how rowing is typically done, we want to rebuild new boxes that will better fit a wider variety of participants. We recognized that working alongside non-rowing partner organizations who already had connections and expertise in another area would be more beneficial than trying to do this on our own."
With their Team Up initiative seeing such success early on, Rowing BC has set ambitious goals for the growth of this program. Between the summer and fall of 2022, their program has grown from engaging four to 14 local rowing organizations. The hope is to eventually incorporate this program model as part of their standard operations across all 40+ local rowing organizations in the province.
The Team Up Impact
Both of these initiatives and partnerships demonstrate a commitment to building long-lasting relationships that will help the organizations to develop sustainable, accessible sport programming. In the small town of Castlegar, the 'Gym 4 All' program is creating an inclusive and safe environment for individuals with disabilities to develop their physical literacy skills. Meanwhile, Rowing BC and their various partners are working to re-define the boundaries of their sport to better accommodate diverse participants. Stephanie reflected on the transformative potential of this type of initiative:
"This work with Rowing BC provides a prototype for how partnerships can be transformative for inclusion in the sport sector," she said. "The model of highly supported introductory programs offered in partnership, then bridging programs with faded support, and ultimately transitioning participants into mainstream programming has been an incredible success. This has given us a framework that we are excited to try with more sports organizations. While our participants have been building independence and skills, Rowing BC has been building capacity through staff trainings, first-hand experience, gathering feedback, and consultation. We believe that both organizations have learned from each other through this work, and working toward a common goal has created amazing results for participants and coaches."
At viaSport, we recognize that many groups and individuals face unique barriers that can impede their access to traditional sport participation. The kind of work of these organizations and their Team Up initiatives have done will be instrumental as we create a more equitable sport system for all living in British Columbia together.