BC Sport Organizations come together to celebrate Olympic Day in Kamloops 2017 on November 22nd
Nov 15, 2017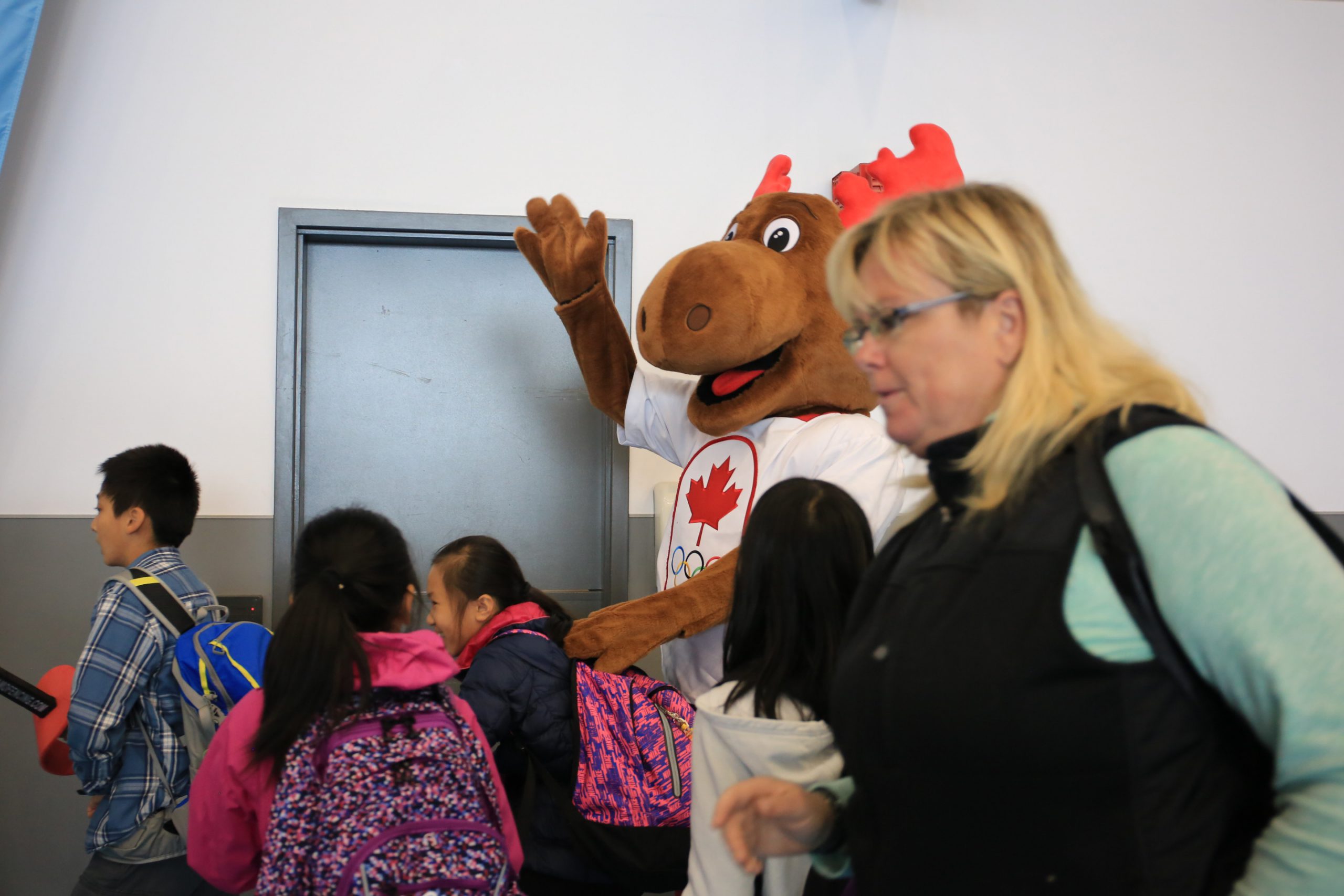 Members of BC's sport community are set to descend upon Kamloops on November 22nd, as the BC sport sector joins forces with the Canadian Olympic Committee to bring Olympic Day to Kamloops.
Hosted by PacificSport Interior BC, the event will provide over 1,500 school aged children from the region with valuable physical movement skills through fun activities from a wide-range of provincial sport organizations, including viaSport BC, 2018 BC Winter Games Society and BC Sports Hall of Fame.
Olympic Day 2017 takes place at the Tournament Capital Centre starting at 9:00 am, will feature interactive, educational games for youth in the area, designed to help them learn about the history of the Olympic Games and inspire them to become and stay physically active.
The day will culminate with the BC Winter Games Torchlighting Ceremony at 6:00 PM, which will mark the official countdown to the 2018 BC Winter Games taking place in Kamloops, February 22-25, 2018.
Local Olympians and Paralympians, including Catharine Pendrel, Jessica Vliengenthart, as well as Brent Hayden and Dylan Armstrong, who are also BC Games alumni will be on hand to celebrate the first-ever Olympic Day event in BC outside of the Lower Mainland.
Olympic Day 2017 in Kamloops will also mark the province's unofficial countdown to the start of the 2018 Winter Olympics in Pyongchang, South Korea, as several of Team Canada's athletes are BC Games and Team BC alumni.
Globally, Olympic Day, is held on June 23rd each year, and is celebrated by thousands of individuals and groups worldwide. Olympic Day calls to action the need to adopt and maintain healthy active lifestyles while living the Olympic values: excellence, respect, leadership, fairness, fun, human development and peace.
The City of Kamloops, School District 73, Whistler Sport Legacies and Tourism Kamloops are also participating in this event as well as many other Provincial and Local Sport Organizations.
Events of the Week:
1. Olympic Day Wednesday, November 22nd 9:00 AM – 1:30 PM
Tournament Capital Centre – 910 McGill Rd, Kamloops, BC
2. BC Winter Games 100-day Countdown Torch Lighting Wednesday, November 22nd 6:00 PM
Tournament Capital Centre – 910 McGill Rd, Kamloops, BC
3. BC Winter Games Torch Event at Sun Peaks Resort Thursday, November 23rd 3:00 PM
Join the conversation online, using the hash tag: #OlympicDayKamloops
To learn more about Olympic Day 2017, visit http://www.pacificsportinteriorbc.com/event-calendar/olympic-day-kamloops
About Pacific Sport Interior BC
The PacificSport Centres are a network of not-for-profit organizations committed to enriching lives and energizing communities via sport, physical activity and physical literacy across BC. A legacy of the 1993 Canada Summer Games hosted in Kamloops, PacificSport Interior BC is a regional sport hub created to lead athlete, coach, and community sport services as far north as 100 Mile House; northeast to Sun Peaks, Barriere and Clearwater; east to Salmon Arm and Sicamous, and southwest to Lytton. In partnership with the viaSport Regional Alliance, PacificSport Interior BC aims to increase awareness, opportunity and participation in physical activity and sport – from playground to podium – while enhancing access to coaching and athlete programs.
About the BC Sports Hall of Fame
Go there. Experience. Be proud. Be inspired.
Located at Gate "A" of BC Place with inspiring exhibits, the BC Sports Hall of Fame is the 'go to' organization for BC sport heritage. For over 50 years, we have honoured BC's teams, builders, athletes, pioneers, and media through the annual induction ceremony the Banquet of Champions. The collection of the BC Sports Hall of Fame and Museum includes over 25,000 artifacts and 20,000 archival documents representing 100 years of sporting accomplishments in British Columbia. In everything it does, the BC Sports Hall of Fame honours, educates, and inspires through the Hero In You Youth Education Programs. For more information please visit: www.bcsportshalloffame.com follow us on twitter @bcsportshall and like us on Facebook at: www.facebook.com/bcsportshall/
About the BC Games
The BC Winter and BC Summer Games are British Columbia's biennial celebration of sport and community excellence and fosters the development of athletes, coaches, officials, and volunteers.  Celebrating 40 years of exceptional experiences through sport, the BC Games have been staged in 38 communities and involved over 350,000 participants and volunteers from every corner of the province.  The BC Games are a milestone event that people count as an experience of a lifetime where memories, friendships, spirit and pride are abundant.
About viaSport BC
viaSport engages and unifies British Columbians through the power of sport because it believes that the values and life skills developed via sport allow people to thrive for life. To increase sport participation opportunities, viaSport unites leaders across sectors to champion change and continuously enhance our world-class sport system.
Media interested in attending any of these events, speaking with representatives from any of the organizations above, or any of the athletes are asked to contact etabakman@lbmg.ca