BC Sports Hall of Fame to Induct 11 Individuals and 1 Team
Dec 17, 2015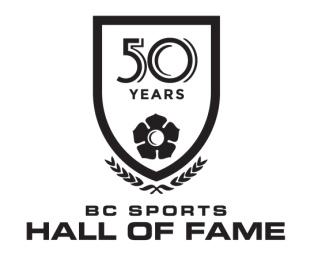 Vancouver, B.C. – The British Columbia Sports Hall of Fame has selected 11 outstanding individuals and one team for induction as part of its 2016 class, the 50th in its history.
Honoured Members Tom Larscheid, Sean Millington and Charmaine Crooks announced the 2016 induction class today in the Hall of Champions of the BC Sports Hall of Fame. The 2016 induction class includes:
In the athlete category, five athletes – Dave Barr (Golf), Dave Cutler (Football), Geri Donnelly (Soccer), Steve Nash (Basketball), and Carl Valentine (Soccer)- were selected.
In the coach-builder category, Wally Buono (Football), Diane Clement (Athletics) and Allison McNeill (Basketball) have been selected.
Selected for induction in the pioneer category is Harry Manson (soccer), also known as Xul-si-malt, which means "one who leaves his mark". Wendy Long has been selected in the media category.
Arthur Griffiths has been selected to receive the W.A.C. Bennett Award.
Finally, the 1994-1995 Kamloops Blazers Hockey Team has been selected for induction in the team category. Team members include: Jeff Ainsworth, Jeff Antonovich, Terry Bangen, Nolan Baumgartner, Rod Branch, Bob Brown, Ashley Buckberger, Ed Dempsey, Greg Deverson, Shane Doan, Hnat Domenichelli, Greg Hart, Don Hay, Brian Henderson, Jason Holland, Ryan Huska, Jarome Iginla, Jeff Jubenville, Aaron Keller, Donnie Kinney, Brad Lukowich, Bob Maudie, Keith McCambridge, Kevin McDonald, Tyson Nash, Cam McCormick, Shawn McNeil, Jeff Oldenborger, Randy Petruk, Scott Sherwood, Rob Skrlac, Andrei Sryubko, Jason Strudwick, Darcy Tucker, Ivan Vologianinov and Bob Westerby.
Induction recognizes excellence in sport, contribution to sport and the impact on sport in British Columbia, in the categories of athlete, builder, team, pioneer, and media. The BC Sports Hall of Fame Selection Committee is comprised of 15 individuals representing the BC sport community at large, members of the BC Sports Hall of Fame, the Board of Trustees and the media.
-more-
The 2016 Inductees, the Hall's 50th Induction Class, will be formally inducted to the BC Sports Hall of Fame at the Banquet of Champions at the Vancouver Convention Centre on June 9th, 2016.
About the BC Sports Hall of Fame
Go there. Experience. Be proud. Be inspired.
Located at Gate "A" of BC Place with inspiring exhibits, the BC Sports Hall of Fame is the 'go to' organization for BC sport heritage. For 50 years, we have honoured BC's teams, builders, athletes, pioneers, and media through the annual induction ceremony the Banquet of Champions. The collection of the BC Sports Hall of Fame and Museum includes over 25,000 artifacts and 20,000 archival documents representing 100 years of sporting accomplishments in British Columbia. In everything it does, the BC Sports Hall of Fame honours, educates, and inspires through the Hero In You Youth Education Programs. For more information please visit:
www.bcsportshalloffame.com
follow us on twitter
@bcsportshall
and like us on Facebook at:
www.facebook.com/bcsportshall
-30-
Media Contacts:
Allison Mailer
Executive Director 
BC Sports Hall of Fame
604-687-5520 (32)
778-839-8376 (cell)
Jason Beck
Curator
BC Sports Hall of Fame
604-687-5520 (30)
604-308-9888 (cell)