BC Sports Heroes awarded with highest recognition
Sep 20, 2013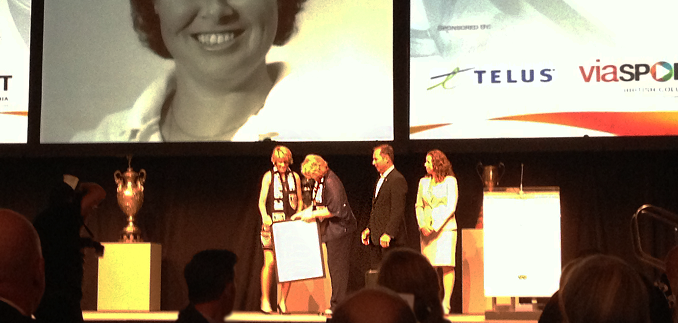 2013 inductees honoured at BC Sports Hall of Fame Banquet of Champions
Yesterday evening, viaSport was honoured to sit amongst hundreds of attendees at the BC Sports Hall of Fame Banquet of Champions to recognize a select group of BC sports heroes—the 2013 inductees of the BC Sports Hall of Fame.
The evening was filled with incredible people, inspiring stories and most importantly the celebration of sport in BC. Leading up to the ceremony, viaSport was also lucky to meet a few of the other inductees and learn a little bit more about the history behind this incredible honour.
Watch the video below to hear more from BC Sports Hall of Fame's Executive Director, Allison Mailer, members of the 1965 Ocean Falls Amateur Swimming Club and words of wisdom from Olympic swimmer, Brent Hayden.
Being inducted into the BC Sports Hall of Fame is the highest form of recognition for sport in the province. viaSport would like to congratulate all the 2013 inductees and recognize their amazing contributions to BC's sport history.
2013 Inductees:
Athletes:
Kevin Alexander – Lacrosse
Dawn Coe-Jones – Golf
Brent Hayden – Swimming
Robert 'Ro' Hindson – Rugby
Peter Reid – Triathlon
Builder
Kathy Shields – Basketball
Ken Shields – Basketball
Team
1965 Ocean Falls Amateur Swimming Club
Team Members: Bob Fisher (coach), Sandy Gilchrist, Ralph Hutton, Rudi Ingenhorst, Jack Kelso, Anne (McDaniel) Linton, Marguerite (Wahl) Reed
Pioneer
Media
WAC Bennett