Gender Equity Forum Sets the Stage for Sport Leadership Conference
Oct 23, 2019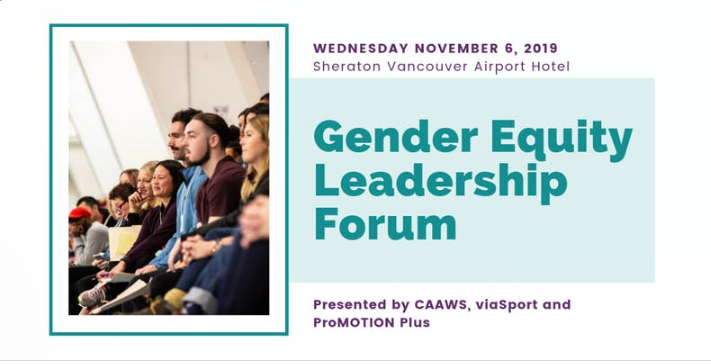 On Wednesday, November 6, the Canadian Association for the Advancement of Women in Sport and Physical Activity (CAAWS), in partnership with viaSport and ProMOTION Plus, will be hosting a forum for sport leaders committed to achieving gender equity in their organizations.
The event is being held in Richmond, B.C. in the lead-up to the national Petro Canada Sport Leadership Sportif conference, which runs November 7 to 9. Though you won't find it on the official conference schedule, the timing of the gender equity forum couldn't be better, as it offers an opportunity for leaders from across the country to go into the conference with gender equity top of mind. The national audience also promises to enhance the quality of the discussion, with diverse perspectives on how to bring about positive change and build inclusive, welcoming sport experiences.
As advocates of gender equity in sport and beyond, viaSport is proud to partner with CAAWS and ProMOTION Plus to continue to elevate women and girls as leaders in the sector.
Why attend?
Working towards gender balance in sport leadership has the potential to help mitigate critical risks sport organizations face today, whether in terms of safe sport, financial sustainability, or effective governance. We know that many of our partners in B.C. are on the road to achieving gender balance in their organizations, but are constantly looking for new ways to advance this goal.
Come hear from experts and sector colleagues on what's working and what we can do differently together, as we work toward a stronger sport sector that includes everyone.
For more information and to register, click here.