Happy 25 years Pacific Sport Interior B.C.
Nov 12, 2019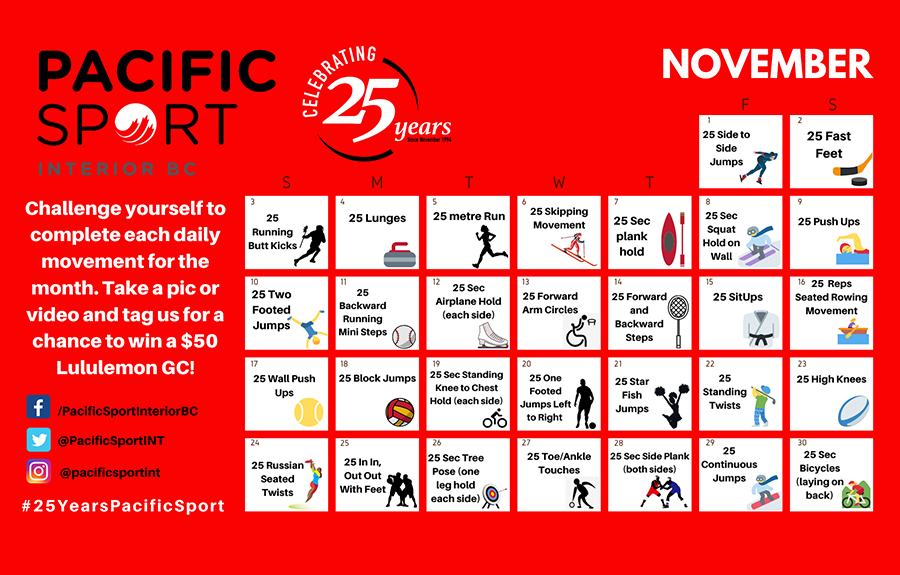 A huge happy 25 years to one of our Regional Alliance partners, Pacific Sport Interior B.C.! What an achievement to have been bettering the lives of their community through sport and physical activity for a quarter century.
We want to recognize their dedication to promoting their mission "educate, inspire and engage British Columbians to excel and be active for life" by offering a variety of initiatives providing grassroots sport participation programs, high performance programs, opportunities for sport education and resources. Together all the Pacific Sport organizations have impacted 60 000 British Columbians' sport experiences.
To celebrate, Pacific Sport Interior B.C. has put together a month calendar of daily movement to complete with the chance to win a Lululemon gift card. You can catch us at the viaSport office moving through each day and getting energized. Tag your pictures to #25YearsPacificSport and let's celebrate this milestone in our thriving sport community.