PSO collaboration strengthens the sector through inclusion training
Feb 26, 2020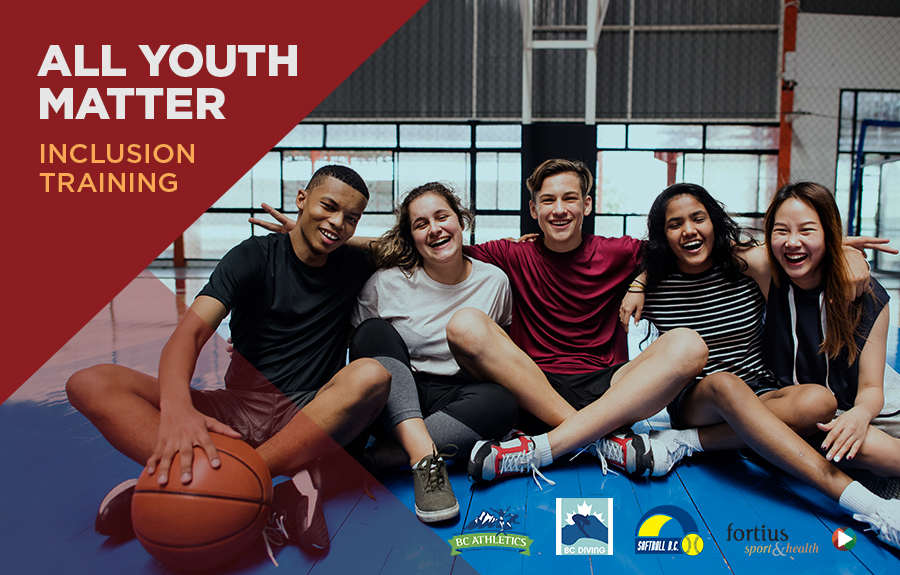 Can you imagine a place where all youth feel welcome and included in sport? That's the kind of British Columbia we're working toward at viaSport. It is with the support and buy-in of passionate sport and recreation organizations that viaSport is able to support sector collaboration to strengthen our sport eco-system. Our youth inclusion training program, All Youth Matter, is the latest catalyst for facilitating these shared efforts, and together we're actively moving the needle on inclusion in our sector.
For the first time since the All Youth Matter training launch in 2019, four youth inclusion champions will collaborate to co-host a workshop for their organizations and the public. On Sunday, March 8, join BC Athletics, BC Diving, Softball BC, and Fortius Sport & Health for All Youth Matter. Because of this fantastic collaboration, the workshop cost is significantly lower at $15.00 per participant to cover the workbooks.
"When viaSport approached us to host a collaborative All Youth Matter Workshop with Softball BC, Diving BC and BC Athletics, it was a no-brainer — the perfect opportunity to align our resources to help further the inclusion efforts for youth in sport. We believe inclusivity training is an eye-opener. Bias and judgment are still very much prevalent in sport. Taking a step back and being aware of how we can acknowledge that and be a vehicle for change is what is the most important." – Jennifer, Business Development Manager, Fortius Sport & Health
As we begin to understand that inclusion does not simply equal participation, we must acknowledge that youth who are part of sports teams and rec programs still experienced discrimination and face barriers to reaching their full potential in their sport. If you are a leader for youth in sport and rec, All Youth Matter will equip you with the tools and knowledge to create and lead sport and recreation programs that make youth feel valued and deserving of a positive sport experience. You'll learn how to:
strengthen your understanding of inclusion;
identify and address barriers and biases;
intervene in discrimination;
create an inclusive environment for diverse youth participants.
"We are looking forward to having a group of individuals from Softball BC LSOs attend this workshop and in turn bring the strategies they learn to their own clubs.  We want to see them become leaders as well and encourage other LSOs to bring the AYM program to their own clubs. Our overall outcome will be to show our membership and potential members that softball is a safe, welcoming environment and we are serious about continuing to learn ways to be fully inclusive. We are excited to hear feedback from the workshop and to see our clubs thrive from the experience." – Lesley, Member Services Coordinator, Softball BC
The passion that these champions have for making sport more inclusive is clear. If you are ready to take on the role of youth inclusion champion, register here for the March 8 workshop.