Sport Leaders Sign Landmark Agreement for B.C.
Feb 05, 2016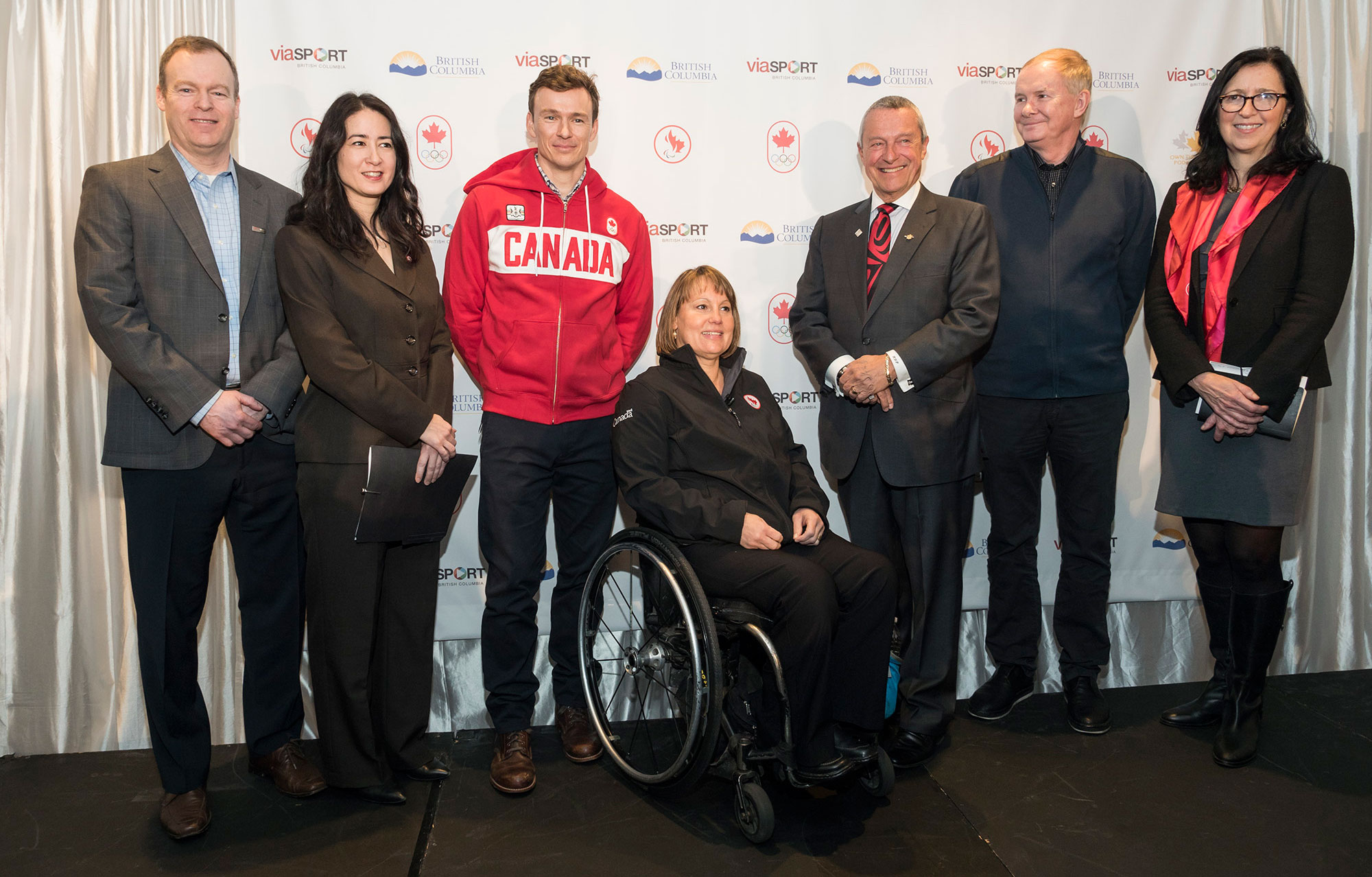 RICHMOND (February 5, 2016) – On Friday, a new sport memorandum of understanding was introduced by the Canadian Olympic Committee (COC), Canadian Paralympic Committee (CPC), Own the Podium (OTP), the Province of British Columbia (B.C.) and viaSport BC, whereby the five partners commit to collaboration on a set of pertinent principles. This partnership aims to further develop and explore new opportunities for British Columbian youth to realize their full potential from playground to Olympic and Paralympic success.
Click here to watch the announcement. 
In its resolution dated October 16, 2014, the United Nations recognized sport as a means to promote education, health, development and peace. As such, it represents an important asset to society – and each partner is committed to that resolution.
To ensure this promotion of education, health and development through sport, as well as B.C. and Canada's performance on the field of play, the five partners recognize the importance of increasing collaboration and efficiency to achieve common success. This agreement represents a shared commitment to work together to support B.C.'s sporting communities.
Through this agreement, the partners will explore opportunities to collaborate based on principles such as:  
Providing the best conditions and support possible for the athletes and coaches of today and tomorrow;
Increase collaboration between provincial sport organizations and national sport federations;
Working collaboratively on actions and initiatives to get youth more active and adopt healthy lifestyles, progressively enlarging the pool of youth engaged in sport;
Continuing to make sport and its funding a priority and influence this priority with strategic public and private partnerships in the Province of B.C.;
Continuing to work collaboratively in B.C. to achieve Canada's international sport objectives.
The COC, CPC, OTP, B.C. and viaSport agree to work together and with other partners to create increased opportunities for sport and physical activity to be a relevant and important part of British Columbians' lives.
QUOTES
"The Canadian Olympic Committee strongly believes in the importance of this provincial and national collaboration in favour of sport development, and applauds the Province of British Columbia for exploring further opportunities with sporting partners. Together, we are working toward a strong Canadian sport system from the playground up, inspiring our youth to lead healthy, active lives while at the same time, ultimately growing the pool of future potential Olympians. Our best chance of success is to work as one team from coast to coast to coast."
Tricia Smith, President, Canadian Olympic Committee
"The Province of British Columbia has such a strong sport system and with the leadership of all partners aligning efforts, together we can further bolster the growth of Canada's national sport system. This will in turn provide greater opportunities for athletes with a disability to prosper and reach Paralympic success and for Canada to become a world-leading Paralympic nation."
Gaétan Tardif, President, Canadian Paralympic Committee
"It takes a cohesive team to achieve success in any walk of life, and that certainly holds true in developing Olympic and Paralympic champions. These champions can come from anywhere in our great country and perform at their best when there is strong collaboration between all partners. Our partnership with British Columbia will attract more youth to sport and ultimately increase our pool of high performance athletes, inspiring new champions well into the future. This is a vehicle for developing a healthier population, more active communities and a prouder, stronger and united Canada."
John Furlong, Chair, Own the Podium
"This agreement aligns with British Columbia's commitment to sport and to encouraging our youth to become more involved in a healthy and active lifestyle. The Province looks forward to building on its already strong reputation as a national leader in developing Olympic and Paralympic athletes. The signing of this new memorandum of understanding will further the relationship between our province and its partners."
Hon. Peter Fassbender, Minister of Community, Sport and Cultural Development 
"viaSport envisions an active, healthy British Columbia where sport inspires a field of possibilities for all. It is through partnerships at the community, provincial and national levels that we are able to support the delivery of programs aimed at fostering excellence from the playground to the podium. We are excited to be part of this ground-breaking initiative which will continue to make sport and physical activity relevant for all British Columbians.  
Caley Denton, Board Chair, viaSport
-30-
About the Canadian Olympic Committee: 
The Canadian Olympic Committee leads the achievement of the Canadian Olympic Team's podium success and advances Olympic values in Canada. Independent and predominantly privately funded, the Canadian Olympic Committee delivers resources that Canada's elite athletes need to perform at their best and give their everything, every day. The backbone of Canada's Olympic movement, the Canadian Olympic Committee works with National Sport Federations to prepare the Team for the Olympic, Youth Olympic and Pan American Games. By sharing our athletes' stories, we inspire all Canadians through the power of sport: 24 hours a day, 7 days a week, 365 days a year.
About the Canadian Paralympic Committee:
The Canadian Paralympic Committee is a non-profit, private organization with 27 member sports organizations dedicated to strengthening the Paralympic Movement. The Canadian Paralympic Committee's vision is to be the world's leading Paralympic nation. Its mission is to lead the development of a sustainable Paralympic sport system in Canada to enable athletes to reach the podium at the Paralympic Games. By supporting Canadian high performance athletes with a disability and promoting their success, the Canadian Paralympic Committee inspires all Canadians with a disability to get involved in sport through programs delivered by its member organizations. For more information, visit www.paralympic.ca.
About Own the Podium
Own the Podium, a not-for-profit organization, prioritizes and determines investment strategies for national sport organizations in an effort to deliver more Olympic and Paralympic medals for Canada. Own the Podium's largest contributor of funding is the Government of Canada with additional funding provided by the Canadian Olympic Committee and its Canadian Olympic Foundation, the Canadian Paralympic Committee, along with the corporate community.
Own the Podium was created in 2005 to help Canada become the number one nation at the 2010 Olympic Winter Games, and to place in the top-three nations in the gold medal count at the 2010 Paralympic Winter Games. Own the Podium continues to drive Canada's high performance sport system forward in a quest to help more athletes and coaches win more medals in future Olympic and Paralympic Games.
About viaSport
viaSport British Columbia is a not-for-profit organization created in 2011 as a legacy of the 2010 Olympic and Paralympic Winter Games. Our mandate is to increase awareness, opportunity and participation in sport across the province–at every stage of life and in every community.
By leading the province in building a stronger, more effective sport system, we will bring more families to the field of play, more fans into the stands, more athletes to the podium and more sports events to the province.
 
Canadian Olympic Committee Media Office: Cherry Ye, Program Manager, Media Relations
Tel: 416-324-4123 / Cell: 416-427-4341 Email: cye@olympic.ca 
Ricky Landry, Manager, Communications
Tel: 514-861-3696 / Cell: 514 229-4833 Email: rlandry@olympic.ca 
Own The Podium Media Office:  Chris Dornan, High-Performance Public Relations
Tel: 403-620-8731 Email: hpprchris@shaw.ca Web site: www.chrisdornan.ca
Canadian Paralympic Committee Media Office: Alison Korn, Sr. Manager Media Relations & Communications
Tel: 613-569-4333 ext. 243 / Cell: 613-298-4927 Email: akorn@paralympic.ca
Province of B.C.: Gillian Rhodes
Communications Director
Ministry of Community, Sport and Cultural Development
Tel: 250-888-1462 Email: gillianrhodes@gov.bc.ca
viaSport: Alyson Gourley-Cramer, A/Director, Communications & Engagement
Tel: 250-961-5366  
Email: AlysonGC@viasport.ca