Team BC Mission Staff announced for the 2017 Canada Summer Games
Apr 27, 2016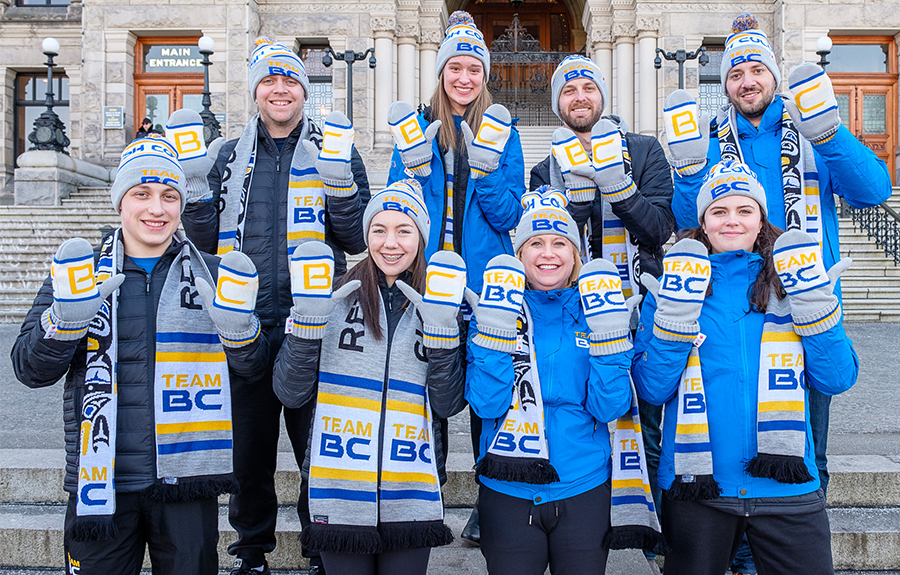 Preparations for the 2017 Canada Summer Games are underway and Team BC has selected the Mission Staff who will support British Columbia's athletes, coaches, and managers as they prepare for and compete at these national multi-sport Games.
Chef de Mission, Rob Needham, will lead the team of Mission Staff who will provide administrative, logistical, and performance preparation support.  This will be Needham's third Games as Team BC's Chef de Mission in addition to his extensive international Games experience with Team Canada at the Paralympic Games.
"The Canada Summer Games are an important event for the young athletes of our province as they can be a stepping stone to future success," Minister of Community, Sport and Cultural Development Peter Fassbender said. "Mission Staff play an integral role in shaping an athlete's experience and preparing them for this important multi-sport competition where they will serve as an ambassador for our wonderful province."
Comprised of volunteer sport administrators, educators, sport performance experts, and communications specialists, the Mission Staff will provide a wide range of services to Team BC athletes, coaches, and managers leading up to and during the Canada Summer Games.  The Mission Staff team will strive to support Team BC in achieving optimal performances while ensuring each team member enjoys a tremendous Games experience in Winnipeg next summer.
 "We are incredibly pleased to welcome such a talented group of volunteers to our 2017 Team BC Mission Staff", said Needham. "Our preparations are already well underway, and the diverse skills and experience of our mission team will ensure Team BC receives an elite level of operational support as our athletes prepare to perform at their best at the 2017 Canada Summer Games." 
The Canada Games are held every two years, alternating between winter and summer and are a key step in the development of Canada's amateur athletes.  The 2017 Canada Summer Games will celebrate the 50th anniversary of the Games as well as Canada's 150th birthday.  Team BC will send 400 athletes, coaches, support staff, and Mission Staff to the Games which take place July 28-August 13, 2017.
The Mission Staff team is beginning preparations now and will work for the next 15 months to ensure Team BC is completely ready for the 2017 Canada Summer Games.
-30-
About Team BC 
Team BC will bring together a delegation of 454 athletes, coaches, managers, and mission staff to represent British Columbia at the 2017 Canada Summer Games in Winnipeg.  Team BC athletes are the best young developing talent in this province and are our future national and international champions.  Team BC alumni include Olympians Ryan Cochrane (Swimming), Karina LeBlanc (Soccer), and Paralympian Bo Hedges (Wheelchair Basketball).  Visit www.teambc.org for the latest news and updates.
About the Canada Games
Winnipeg, Manitoba will host the Canada Summer Games July 28 – August 13, 2017. Featuring 16 sports, over 250 events and a major cultural festival, the 2017 Canada Games will welcome over 4,000 athletes and coaches and more than 20,000 visitors. Celebrating the Games' 50th anniversary and Canada's 150th birthday, the Canada Games are this country's largest multi-sport event for young athletes. They will leave a lasting legacy of new and enhanced sport facilities, volunteer and leadership development that will benefit athletes and the broader community for years to come.
Media Contact:
Lia Threlfall
Communications Manager
BC Games Society
Office: 250-387-4688
Cell: 250-812-3887
BACKGROUNDER Team BC Mission Staff – 2017 Canada Summer Games
See detailed bio information for Mission Staff here.
Leadership Team
Rob Needham, Chef de Mission (Vancouver)
Michelle Collens, Assistant Chef de Mission (Vancouver)
Eric Chéné, Assistant Chef de Mission (Vancouver)
Jarret Poitras, Operations Manager, BC Games Society (Victoria)
Lia Threlfall, Communications Manager, BC Games Society (Victoria)
Mission Staff
Emmy Blouin, Sport Mission Staff (Prince George)
Simon Cass, Sport Mission Staff (Victoria)
Victoria Christison, Communications Mission Staff (Victoria)
Sam Corea, Communications Mission Staff (Vancouver)
Bianca DeSilva, Sport Mission Staff (Victoria)
Tyla Flexman, Special Events Mission Staff (Vancouver)
Cathy Johnson, Sport Mission Staff (Prince George)
Marie-Pierre Lavoie, Operations Assistant (Victoria)
Eron Main, Sport Mission Staff (Delta)
Colleen Reay, Sport Mission Staff (Whistler)
Jennifer Scott, Sport Mission Staff (Vancouver)
Drew Todd, Sport Mission Staff (Victoria)
Danielle Williams, Sport Mission Staff (Langley)
Performance Team
Paul Dwyer, Medical Manager, SportMed BC (Squamish)
Dave Freeze, Mental Performance Consultant (Kamloops)
Carl Nienhuis, Mental Performance Consultant (Chilliwack)