Team Up: Engaging Indigenous youth in community sport
Dec 09, 2022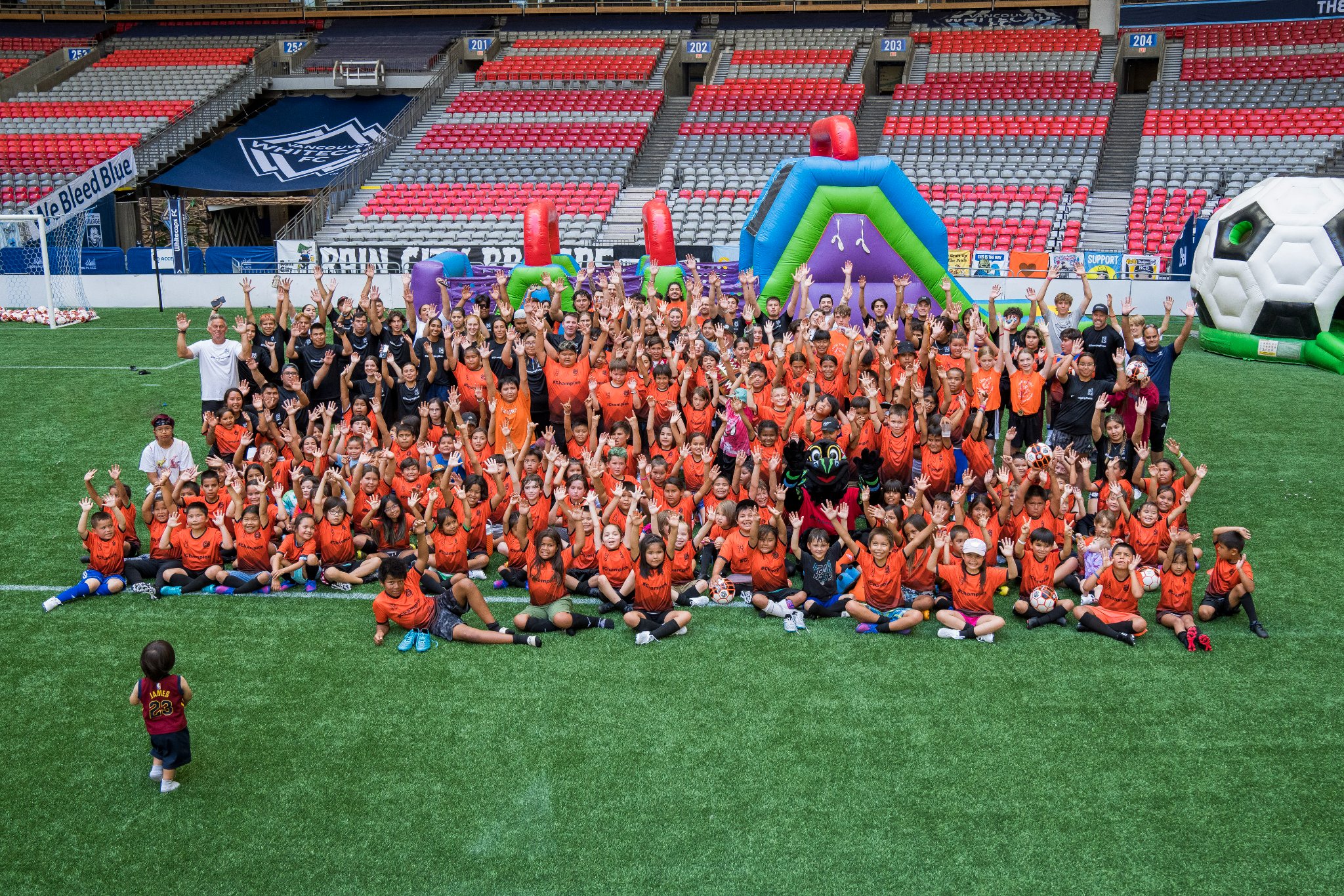 In August 2022, viaSport British Columbia announced the recipients of the Team Up grant. This partnership grant was developed to build program capacity for sport organizations across the province and to encourage partnerships between the social sector and sport. With the Team Up programs getting underway, we've had the opportunity to check in with several of the grant recipients to see how their funded initiatives are going. Over the next month, we will be sharing three stories including updates from six grant partners. In the first of the three stories, we are excited to introduce and share the progress of two Team Up grant recipients that are delivering sport programs to support Indigenous youth.
Hope and Health for Life Society and BC Soccer: Increasing development opportunities for Indigenous youth and coaches
Hope and Health for Life Society and BC Soccer are working together to deliver community soccer camps for Indigenous youth and community coaches. For over 10 years, Hope and Health Society has been supporting Indigenous youth through community sport engagement, beginning on Vancouver Island and expanding to the Lower Mainland.
"Hope and Health is an organization that brings sport to Indigenous communities to have fun, learn, and empower Indigenous children who don't have the chance to partake in any sport leagues due to the cost and travel," explained Nicole Jack, Regional Coordinator of Hope and Health Society on Vancouver Island. "Hope and Health [delivers programs] where all children can feel like they are a part of a team while connecting to their community and building friendships with hope and health!"
Hope and Health for Life Society's Team Up programming is well underway, with the first community camp taking place in July at BC Place in Vancouver. Hope and Health has delivered community camps for several years on Vancouver Island (as far away as Ahousaht) and in the Lower Mainland. The additional funding allowed them to expand their reach and partner with BC Soccer who delivered coach education to Hope and Health's community coaches. Coaches from across the province travelled to the event for coach development and to support the event delivery. Nicole attended the camp in July and reflected on the impact of Hope and Health's community camps:
"We want children to come to these camps to have fun, play soccer, meet new people, and to make memories with their families," she said. "From my own personal experience, it has been great to see how many children partake in the program and what they may have learned on our side tables like weaving! The goal we have is to teach children how to put themselves out there and show their true talent as well as to continue to educate on the orange shirt movement and what being Indigenous is to those who may not know any of the Indigenous movements that are out there."
Cross Country BC and Carrier Sekani Family Services: Walk Tall Program
In partnership with Carrier Sekani Family Services and Caledonia Nordic Ski Club, Cross Country BC is supporting the integration of sport activities into the existing Walk Tall program. Carrier Sekani's Walk Tall program offers afterschool programming to youth with the goal of providing new opportunities, building positive relationships, overcoming barriers, and learning about Carrier culture. Jodi Romyn, administration and communications coordinator at Cross Country BC, explained how these organizations came together to develop their Team Up initiative.
"Caledonia Nordic is one of the largest clubs in B.C. and is a long-standing member club with [Cross Country BC]," she said. "We have worked with the club on many initiatives to grow the sport of cross-country skiing and to support athlete development in Northern B.C. Carrier Sekani Family Services has brought their youth program participants to Otway Nordic Centre in the past, but not in any formal partnership capacity. In discussion with Caledonia Nordic, we agreed that formalizing this partnership through the Walk Tall program would be an excellent way to support program delivery for both Carrier Sekani and Caledonia Nordic."
Cross Country BC's initiative is providing 50 members of the Carrier Sekani Walk Tall program with the opportunity to try sport activities such as hiking, cross-country skiing, and snowshoeing at the Caledonia Nordic Ski Club in Prince George. Jodi elaborated:
"Activities will be coordinated to incorporate and enhance the broader Walk Tall Indigenous cultural program while increasing sport access and removing barriers to sport participation. The interest and expertise existed with Caledonia Nordic coaches and Carrier Sekani youth leaders, but additional funding was required to ensure successful program delivery. The Team Up grant allowed us to proceed with program delivery and to support increased access for rural Indigenous youth to multi sport activities at Otway Nordic Centre."
With programming underway this fall, Cross Country BC hopes to use this initiative as a pilot project. The program model will be shared with Cross Country BC's 51 member clubs as a template for engaging Indigenous youth in communities across the province.
The Team Up Impact
These initiatives provide opportunities for Indigenous youth to develop sport skills and further their cultural knowledge in safe and fun environments. While the programs themselves provide great value, an important outcome of these initiatives is the establishment of community partnerships. By developing long-term, sustainable relationships, these organizations can continue to deliver inclusive, low-barrier sport programming.
At viaSport British Columbia, we are thrilled to see the success of these partnerships and we look forward to following their continued progress. Stay tuned in the coming weeks as we introduce more of the amazing Team Up programs!