Vanderhoof speed skating coach awarded ViaSport's Grassroots Coach of the Year
Sep 29, 2015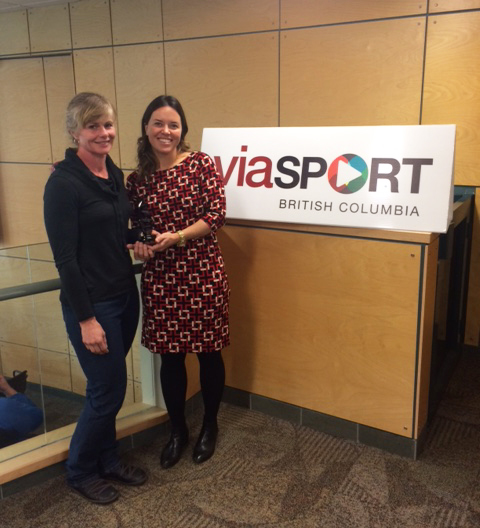 Sunday marked a very proud moment for speed skating coach, Dr. Nicole Ebert, a family physician from Vanderhoof, BC. Dr. Ebert was recognized by viaSport at the 8th Annual Northern BC Coaching Conference as one of three viaSport Coaches of the Year for her contribution to the sport of speed skating in British Columbia. 
Each year, viaSport recognizes exceptional coaches from around the province who are peer-nominated for their dedication to sport and contribution to athlete development. Nicole was awarded Coach of the Year in the Grassroots/Recreational category, while the other categories: Provincial/Regional, and International, were awarded to squash coach Benjamin Uliana of Victoria and badminton coach Ram Nayyar of Vancouver, respectively. 
Since the formation of the Nechako Lakes Clippers ten years ago, Nicole has been a driving force behind the club that has now grown to 70 young athletes. Many of the skaters Nicole has worked with have competed at the BC Winter Games, Canadian Age Class Short Track Championships, and the Canada Games. Not bad for a community of 4,500!
Nicole truly wished the award could go to multiple people, and was humbled by the recognition. "Really, this is a group effort," she said when accepting the award. "Vanderhoof is full of great people, who are generous with their time and support. We couldn't have grown the club without their involvement."
The viaSport Coach of the Year Awards were founded by the Coaches Association of BC and funded by the Bob Bearpark Foundation. The Foundation continues to support viaSport in providing recognition awards for BC coaches. Each recipient of the Coach of the Year Award will also receive a bursary from the Bob Bearpark Coaching Bursary Fund.
Read Nicole's full coach profile to learn more about her coaching career!