viaSport awarded Letter of Recognition from the COC
Jul 04, 2016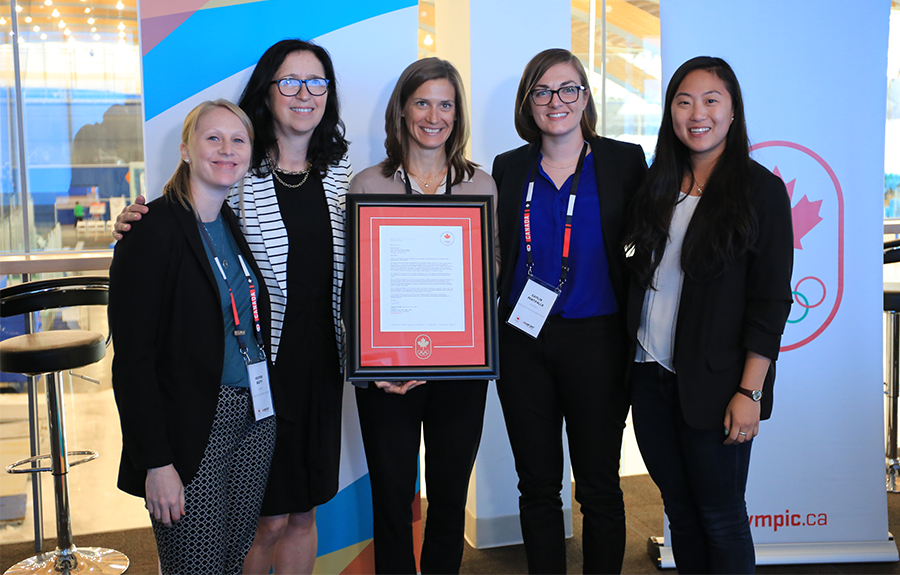 Last month on Olympic Day, viaSport was honoured to receive a Letter of Recognition from Tricia Smith, President of the Canadian Olympic Committee, commending our leadership in the Canadian sport sector.
We're extremely grateful for this recognition, and would like to acknowledge all who have played a critical role in the B.C. sport sector including sport organizations and clubs, athletes, coaches, officials, volunteers, and spectators. The success achieved in British Columbia has been a collective effort made possible through your support and own achievements.   
Although there is more work to be done, the viaSport team is thrilled to continue the journey of championing positive change so that more British Columbians thrive through sport and physical activity.
Read the full Letter of Recognition below:
Dear Sheila,
I want to congratulate you and viaSport on your success in the first iteration of the Provincial Sport Organizations (PSO) Review.
You and your team have done a tremendous job accurately profiling more than 60 sport organizations in your province – a crucial step in identifying the gaps that exist in the system that would hinder our collective efforts to grow the pool of athletes. Thanks to your efforts, we now have a clearer idea of how to support those organizations who play such a pivotal role in attracting more people to their respective sports and producing more elite athletes capable of competing and winning against the best in the world. Your success is making it possible to better target limited resources to maximize results.
As a leader in the alignment of the Canadian sport system, the COC remains committed to helping the provincial sport organizations in their mission, because they are the backbone of our country's sport system.
We are extremely grateful for the critical work being done in British Columbia. We also thank Deloitte, our dedicated partner, whose organizational strategies and reporting expertise were invaluable in your success. Thanks to all of you, we now have an outstanding provincial model that can inspire similar or customized approaches elsewhere in Canada. That will allow us to find common interest and synergies within the system nationwide.
We are thrilled that Ministry of Community, Sport and Cultural Development approved 100 per cent of the recommendations to be implemented over the next two years. That decision reaffirms British Columbia's place as a leader in sport alignment and development in the country.
Your success shows what we can achieve when working together among sport organizations, governments and corporate partners at all levels. I commend you for this success and express our heartfelt gratitude.
Sincerely,
Tricia C. M. Smith
President
Olympian 1976, 1980, 1984, 1988
Canadian Olympic Committee